While making a dress you have to choose the right fabric. Fabric is the most important thing that you should give importance. It determines the overall style and beauty of your dress. If you prefer silk fabric then it is prominent that you want a gorgeous and elegant look for your dress. If you choose chiffon fabric for the item that means that you are for a sensuous and lean look to flaunt. Cotton fabric is eco friendly and durable but needs to be washed regularly and ironed. There are many other types of fabrics like organza and linen. Organza is a fabric which is made of silk or a silk like fabric that resembles organdy and linen is a fabric woven with fibers from the flax plant.
So you want to select the fabric as per your needs and your choice. There are some other things that are fixed while selecting a fabric. It is like if you want for you a wedding dress then you would definitely choose a silk fabric with chiffon fabric as the laces. But you would not surely have cotton fabric to make your wedding dress. Cotton is not used as bridal fabric. But if you want to upholster your furniture and sofa then silk can be best option among many fabric options. It is simply great and elegant. For centuries it has been used by the rich and prosperous as a sign of status and wealth. It has such a great quality that you cannot find elsewhere.
So choosing a design and style for your dress are comparatively easy job to do but the harder part is to match the right fabric with a design. Fashionable clothing does not only rely on the style and cut. Fabrics are important to ensure comfort, fit, flexibility and match. it has been said that silk and chiffon fabric are used commonly the dress material for making a wedding dress. As bridal fabric satin, dupion, voiles, georgettes are also used for several purposes along with silk fabric. If you want to make the wedding dress more comfortable and airy then soft silk fabric and satin silk are better options. It is slim in look. It allows the bride easy movements and easy handling.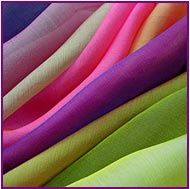 In silk fabric embroidery can be also made. But for evening gowns and party wear fabric may be more experimental and stylish. But once again silk fabric can be your savior if you are ignorant about the perfect look and style or if you are too much tensed or worried about the look of your dress. In silk fabric you can choose heavier or lighter one. Gowns made for formal dinner parties can be more detailed in design. Heavier silk velvet is usually very lovely on a formal dinner gown for the more mature woman. Deeply colored silk can be beautiful if it is styled in the perfect way. The ultimate look of the dress is also depends greatly on the carrying of dress and making that attire comfortable to move along with the wearer.
Source: http://EzineArticles.com/
Image Courtesy:
globaltextiles.com
khodaysilk.com