Self-important, spoiled, multi-talented, and passionate... The segment of population that was once an 'after thought' for vendors are now gaining immense priority. Hailing from the fiery generation known as 'Y', their desires, attitudes, and needs can't be ignored. How do retailers comprehend and capitalize on them?
India has the youngest population profile among other countries. They have a strong desire in expressing their individuality, and style. They make their transition from childhood to adult, falling within the age group of 13 - 24 years. During this period, looks are of utmost importance to them, as they believe this would gain a social acceptance for them. A survey by the Associated Chambers of Commerce and Industry (ASSOCHAM) states that young generation in the age group; 13-21 spend as much as around
`
5000 a month for their shopping spree.
This segment of population is known as 'Generation Y'. They comprise of the fastest growing Indian segment. Much pampered by their parents, they are more confident, ambitious, and achievement oriented. They are not afraid to question authority, and are always ready to face new challenges. Mostly, these people look at their peers, advertising, and idols to decide the right way to conduct themselves. They exert considerable influence on their parents regarding their shopping decisions, or spend their own money. Clothing tops the list of their preferred shopping items.

Preferred shopping items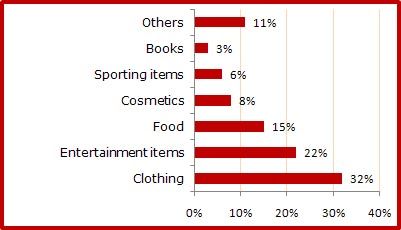 Retail's hot trend:
Generation Y people are smart, have jobs, have parents who give them adequate money, like to shop, are loyal to stores, and brands, and just know how to spend their cash. The tendency of a grown up will be to check in few places before they make a purchase decision, but these youngsters are impulsive, and take quick buying decisions. Most of them prefer to shop around in traditional markets, high end designer stores, retail chains, specialty, and branded stores. Purchase of merchandise happen most probably by impulse. They show strong preference to wear branded and modern clothes, willing to adopt what is racy, and new. Most preferred brands are Lee, Flying Machine, Wrangler, Diesel, Spykar, K-Lounge, and Pepe Jeans.
Preferable shopping modes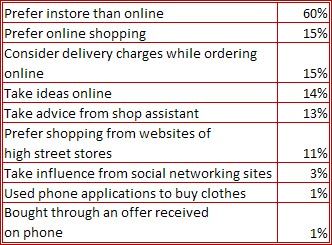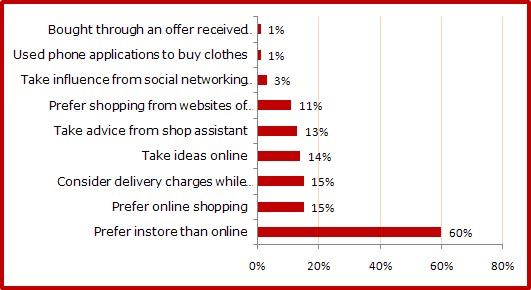 Generation Y marketing: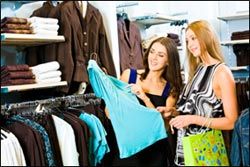 Gen Y people have short attention, great demands and diverse shopping habits. They belong to an era of social media applications, slogan t-shirts, and sneakers that can be customized to fit their lifestyle. Their shopping habits greatly influence the retail industry, and by the year 2020; will have a deep impact on the retail sector. Having baby boomers as their parents, they are being taught to be socially conscious. More open minded than their predecessors, gen Y people tend to adapt to the social changes quickly, are trendy, cultured, and prove to be informed shoppers.
Retailers need to focus on few key factors and adopt marketing strategies based on the same.
The merchandise should appeal to their ego, and senses. It should appeal to their individuality, and also to their baby boomer parents. Brands that are able to convince both generations are more successful in the market.




Gen Y people have tuned out traditional advertising methods. Social media marketing is now a growing trend to appeal, attract and convince this population. They also go for celebrity endorsements, and word-of-mouth marketing.



The store must be themed in a shopping mall, where this population spends majority of their time. Places such as shopping malls, theme parks, and multiplexes would be a good choice to advertise or sell the merchandise.


Gen Y population play an integral role in manipulating the mass market. They prefer to think, decide, and take decisions; themselves. They do not want to be segregated, branded or separated. With a significant amount of money spent for their apparel and fashion shopping gen Y population can make a retail dream come true.
References:
1. Commodityonline.com
2. Retailcustomerexperience.com
3. Businessweek.com
Image Courtesy:
1. Cache.graphicslib.viator.com
2. Cdn.sheknows.com