Key fashion trends for 2012 indicate the obsession of fashionistas for a full blown fruit fashion. Cherries of crimson, succulent strawberries and other eye catching; exotic tropical fruits fill the runways making their way into apparels and accessories.
Fashion is always a multi-way process; including the customer's perception, current trends, designer's creativity, and runway displays. Runways and catwalks posses the vibrant melting pot known as panache which proves to be a source of inspiration for customer's to set their choices. Fashion designers stimulate their creativity making a colorful wardrobe. Current trends indicate a fruity fashion for apparels, and fashion accessories.
More suitable for the younger generation, fashion casts the youngsters under its blood with glamorous fruity trends. Women in their 20s could choose big and bold trends to make their style stand out of the box. Still, the older generation is not left behind. Rather than going for big and bold styles, they can opt for clothes with small fruit prints, a cherry tote bag, some strawberries on their flip flops, or a nice pineapple brooch on their blouse. Whatever be the age, fashion has something for everyone.
Fashion Apparels:
Fashion apparels, and accessories are strewn with captivating cherries, bananas, pears, and apples making a complete fashion salad. Runways are blazing with frutilicious prints. A bowl of citrus, oranges, and grapefruits walk on the runway; although inedible. Zingy citrus prints in double split and backless silk dress and pleat insert versions make a fruity summer trend. Worn with a simple white vest, the attire would be irresistible. Exclusive tops with banana fruit prints,
cherries, and pineapples bear more than a passing resemblance to the trends on catwalk. Strawberry and cherry printed sundresses, with a cat-eye frame sunglasses, and bright colored wedges would make perfect attires. Bold lemon printed summer shots make an enjoyable beachwear.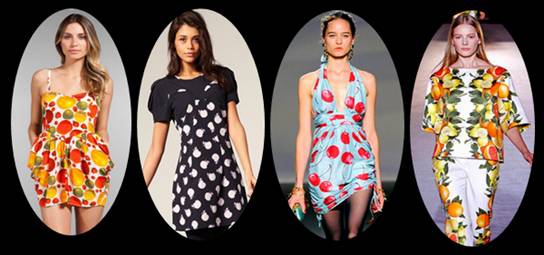 Fashion designers penchant for lemons and oranges fill the ramps with models displaying a clothing range in alluring shades of yellow and dramatic tangerine. Vibrant prints of big brands such as; Stella McCartney and Prada bring in a fruit flavored inspiration reminding of the Chiquita banana girl, and Carmen Miranda.
Fashion Accessories:
Fashion heralds a new view with the fruity trends tipped to become one of the hottest trends for the year. Debuting on the runways, fruity trends of apple, cherry, lemon, and orange are making their way into jewelry, shoes, clips, earrings, handbags, headbands, scarves, and many more. Fruity accessories with well placed appliqus, and juicy colors give a flirty and girlish inspiration.
Apple inspired travel bags, makeup bags, and wallets are a perfect style for women of all ages. Italian brand VitaSnella has launched their collection of fruit bags on the allure of fashion. Fruity jewelry with the 50s inspiration is a new addition for the season. Beautiful cherry necklaces would make a good choice with denim apparels or a jumpsuit with a 70s look.
Fashion's likeness for creativity has filled the coming season with delicious fruity prints.
Fruits are delicious, appealing, and a major fashion trend for 2012.
References:
1) Trendhunter.com
2) Guardian.co.uk
Image courtesy:
1) Trendhunter.com
2) Blog.fashionandyou.com
3) Dailycandy.com
4) Christianlouboutinssaleshoe.com