Whenit comes to keeping warm this winter, it doesn't get much better than a thickand toasty warm winter coats. However, there are a lot of different styles of women'swinter coats to choose from, so here is a quick rundown of the best out thereto help you decide what you'll have wrapped around your shoulders this winter.
DownJackets
Wrappingyourself in duck feathers sown together in black plastic bags may seem like abit of an extreme option, but there's no denying the down coat's warmingqualities. New technology for thinner down coats, without losing out on warmthand the addition of some stylish designs from the likes of Jil Sanders have ledto a resurgence in the popularity of Down this winter.
DuffleCoats
Alwaysa classic, the duffle coat can't fail to look good. However, the big gapsbetween the chunky buttons and the heavy feel can sometimes put people off itas the winter coat of choice. Although, shorter styles and zips under buttonsare new options that bring a little more diversity to the good old reliableduffle coat.
Ponchos
Whilethese have historically been the sole domain of spaghetti westerns andstereotypical perceptions of Mexico, the poncho has now found its way to thehigh street. Some great chunky knit varieties, especially of the monochromevariety, have made the poncho a bit of a gem.
Parka
Bastionof the mod and Britpop culture, the parka has for a long time been a styleclassic, especially here in the UK. However, as with other women's wintercoats, some new variations in style and cut have given them a renewed lease oflife.
Mac
Whatcan you say about the Mac? It's never going to keep you really toasty warm inthe heart of winter, but you'll look stylish while freezing your little rearquarter off. It's like the lingerie of women's coats; no functionality on afrosty morning, but very hot none the less.
PeaCoat
Whilethis has been one of the mains coats of choice for men in last few years, it'salso one that has started to gain in popularity for women's designs. With someclose fitting styles on the high street, combined with cute patterns makes thisa bit of an outside bet for women that like a double buttoned winter look.
Woolen Coat
This is a bit of a catch all category, with woolen parkers, pea coats, reefer jackets and duffle coats on the market right now, but here it specifically means the long and slender woolen coat that wraps you nearly from head to toe in wind stopping thick wool fibers. Elegant and slimming, they're a definite shore bet for long lasting style that transcends trends.
Bomber Jacket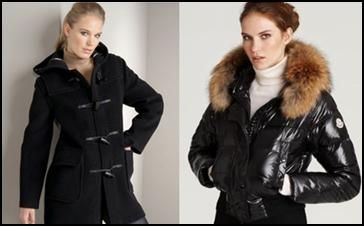 The bomber jacket isn't always a great option for a winter coat, because its wind protection stops at the waist. However, there are more than a few shearling bomber jackets out there that more than compensate for this with their thick covering on the midsection.
Cape
Dating back to the dark ages, the cape has been a staple of winter warmers, but has faded out of popular fashion sadly. However, it's back with a brilliant vengeance right now, inspired by the cape-loving style of Vince Noir.
Faux Fur Coats
Fur is a bit of a tacky choice with the knowledge that you had to kill a little beasty to get it, but there are a number of high quality faux fur options on the marketplace that look just as chic right now over the top of your favourite going out dress.

Source: http://EzineArticles.com/
Image Courtesy:
artasyouliveit.blogspot.com
good-belstaff-jackets.com
coolspotters.com
monclerdownjacket.com
styleplatform.stylecompare.co.uk