Oeko-Tex®: Reason for Introduction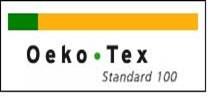 The Oeko-Tex® Standard 100 was introduced at the beginning of the 1990s as a response to the needs of the general public for textiles which posed no risk to health. "Poison in textiles" and other negative headlines were widespread at this time and indiscriminately branded all chemical across the board used in textile manufacturing as negative and dangerous to health. .

The demands we make of modern textile products cannot be realised without the use of specific chemical substances, however. Fashionable colours, easy-care properties, a long life span and many other functional properties are now demanded of textiles, and are essential in some cases, depending on the intended use (e.g. for workwear). .

Up until the introduction of the Oeko-Tex® Standard 100 there was neither a reliable product label for consumers to asses the human ecological quality of textiles nor a uniform safety standard for companies within the textile and clothing industry which enabled a practical assessment of potential harmful substances in textile products. The Austrian Textile Research Institute (TI) and the German Research Institute Hohenstein therefore jointly developed the Oeko-Tex Standard 100 on the basis of their existing test standards.
Objectives
The testing and certification system of the Oeko-Tex® Standard 100 satisfies the many and varied requirements consumers make of modern textile products and at the same time take into account the complex production conditions in the textile industry: global organization, a strong tendency towards the international division of labour, different mentalities with respect to the use of potentially harmful substances.
Manufacturing textile products of all types, ecologically harmless for humans.

Simplifying and accelerating terms of delivery for manufacturers and retailers who wish to offer their customers textile products which pose no risk whatsoever to health.

A reliable product label for consumers who specifically aim to buy textiles which are harmless to health.