Pavlovsky Posad, an ancient town near Moscow is now getting into the fashion spotlight. Exquisite, floral, and handmade shawls from the Russian town, now; earn the fame.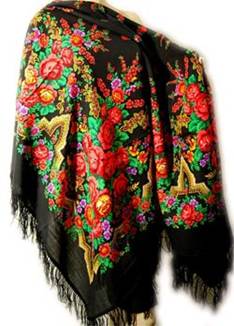 A simple clothing item wrapped around the shoulders just for warmth, has still attained a fashion status. Transforming from a simple winter wrap, shawls are now becoming an ultimate fashion accessory used to enhance the grace of any outfit. Pavlovsky Posad Wool Shawls are famous Russian folk shawls known for its beauty and finest elegance across the globe.
Pavlovo Posad is a small town outside Moscow. Gorgeous woolen shawls made from this town are favored by many women; and are adhered as a staple wardrobe item. Traditionally used as a headwear or wrapped the shoulders, these Russian shawls now provide inspiration for fashion designers to create outerwear. Originally handcrafted and a choice of only the creamy class, booming textile industry, and fashion awareness has brought these shawls into the fashion limelight.
The Origin:
In Russia, when a girl had a hair cut for the first time, she was presented with a scarf. This ritual was called as 'untying of the mind'. It was not compulsory for a Russian woman to wear a scarf till she became a bride. Thereafter, she was to wear a ribbon and a scarf above her braided hair. In Russia events crucial for a girl are always accompanied with a scarf. During her wedding, the bride changes her scarf many times. A married women; in Russia was always expected to keep her head covered with a scarf.
During early times Empire style clothing was very much in vogue. These apparels were very elegant, made from light fabrics, with elevated waistlines, short sleeves, and plunging necklines. They left the women shivering in cold, and called for the need of shawls. Posad shawls came in style made from textiles, with ornamental designs, and oblong shapes. They had beautiful antique folds, and special golden weights sewn into the hems. Since ancient times, these shawls were popular. A colorful shawl was valued as a prized possession in the family, and was also passed on from mother to daughter. Earlier, a special 'dance with a shawl' event was organized for women to compete. Today these shawls are winning laurels at trade fairs both home and abroad.