Fashion of today gives much focus on shape and structure enhancement. Hosiery, basically a leg wear, has become an integral part of fashion apparels. Hosiery includes tights (called pantyhose in the US), stockings, knee and ankle-highs known as socks, opaques, sheers, and several others. Though popular among men and women, the latter segment dominates more than 80% of the global hosiery market. It makes a perfect addition for any clothing; be it a tube skirt or an oversized sweater.
Though predominantly a female attire, pantyhose is also worn by men for practical purposes. It is used by NFL football players, campers, hunters, horseback riders, and soldiers. It is worn by men to improve athletic performance, energize, and revitalize their leg muscles. Current trends indicate the periphery of this trend moving towards mainstream acceptance, and men prefer wearing them with shorts. The shades being closely related to their skin tones make it difficult to notice them.
Global Hosiery Market:
Diverse options are available for hosieries such as; textured, printed, sheet, footless tights, opaque, leggings, panty hose, and fishnet stockings. Global market for hosiery is forecasted to grow and reach USD 20.3 billion by 2015. North America and EU will be the biggest markets for hosieries accounting for 65% of the total global marketplace. EU will be the biggest market for hosieries both in terms of value, and sales volume. North America which had been a big market will see a decline in the coming years. Recession leading to a predictable slowdown, tightening budgets, and weakening purchasing power of the consumers will lead to the decline. Despite the decline, North America would trail EU in the hosiery market share.
Japan witnessed a 1% decline in the current value during 2010. Market value is currently estimated to be around ¥595.4 billion. Decreasing young population, more ageing population, and low fertility rate has caused Japans hosiery market to decline. Japan is proposing to implement Free Trade Agreements with other South East Asian countries, implementing the Rules of Origin (RoO). This facilitates low income countries (except India, China, and Pakistan) to have duty free trade access with Japan.
Indians spend approximately USD27 a year for clothes, of which hosiery accounts for 0.9%. France, which makes just 1% of the global population, spends USD547 per head, per year on clothes of which 6.3% is on hosiery. China accounts for 80% of the global hosiery production, with its domestic sales accounting for €3 billion during 2010.
Brands and Competition:
Changing nature of lifestyle is bringing in a sea change in the hosiery industry. Manufacturers are taking hard efforts to increase their market share, especially among the younger age group. Competitive pricing plays a crucial role in establishing a strong market for the brands. For getting a successful brand acceptance, companies get into fierce competition providing best bargains and offering promotional discounts to customers. Many brands even offer value added multipack merchandise at throwaway prices.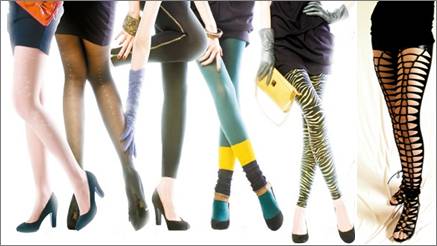 Global hosiery market is strongly characterized by private labels. Major players in the global market include Golden Lady SpA, LLC, LVMH, Kayser-Roth, Gold Toe-Moretz, Donna Karan Intl, Triumph, Tefron USA, and Hannesbrands. Manufacturers face strong competition from the domestic players, and also with the flood of cheap imports.
Hosieries on the ramp:
In par with the latest styles, new collection of hosieries are available in a wide range of classic, and modern styles with a fascinating glitz portraying latest fashion trends. Novel looks, attractive colors, body shaper products, moisturizing pantyhose, anti cellulite, Capri styles, footless, and low rise hosiery are a few of the latest additions in the market. Apart from being a casual wear, tights find multiple uses such as; worn during yoga, exercises, or during dance classes. Opaque tights in rainbow patterns dominate the fashion scene. Highlighted by ramp walk models, this apparel is likely to grow significantly through 2015.
Challenges:
Hosiery market is more of youth centric targeting. Regardless of all positive signals, the primary focus of the industry is on the population falling in the age group; 15-29. This segment comprises only 35% of the total market. People in the age group of 30+ continue to grow, making a good potential for hosieries. They represent 75% of the total market, and with good income source; make a profitable target for hosiery manufacturers. People of this segment need a wider sizing spectrum rendering on features such as easy care, free movement, and comfort. Other health related issues relating to old age may also hinder them from getting dressed. All these factors play a vital role in manipulating the market. Older age group and plus size are the two areas which needs the focus of the hosiery manufacturers.
People's craving for a trendy lifestyle and desire to pamper themselves, supplemented by dual income has triggered the growth of hosiery market. Countries in which population grows rapidly offers good market for hosiery manufacturers. Manufacturers need to adopt innovative approaches.
References:
1) Adsaleata.com
2) Business-standard.com