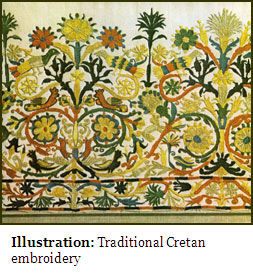 The embroidery work produced on the island of Crete has many influences as designated by its strategic trading and cultural position in the eastern Mediterranean, situated as it is between the Asian, African and European mainlands. Particularly significant and important influences within Cretan decorative and craft arts are those of Byzantium, Italy and Turkey.
The traditional richly embroidered work of the Byzantine Empire has been much overlaid by significant innovations from the Italian trading city of Venice, which colonised the island for a considerable period before Crete's eventual incorporation into the Turkish Empire. It was the Turkish domination of the island that helped to bring in fresh new decorative influences and ideas from across the Turkish Empire, but particularly that of India as disseminated through Persia.
Much Cretan embroidery was produced in thick bands, mostly for costume, less so for domestic accessories, though a certain amount of embroidery for the home has always been produced on the island. Often these embroidered bands, which usually bordered the traditional thick and long dresses worn by women, were able to survive for generations as they were sometimes separated from the original costume they were made for, when that costume wore out. These embroidered bands could then be incorporated and integrated into the next generations' costumes. This meant that embroidery was being carefully preserved for future generations, while at the same time new embroidery was being created and innovated with changes and additions being made by each new generation.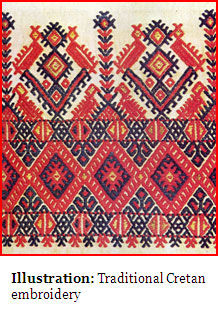 This tandem effect has made Cretan embroidery all the more richer and diverse over succeeding generations of women and girls.
The two illustrations shown in this article are both rooted in the same compositional style. They both show a complex scene of various flora and fauna with numerous flowers, leaves and birds. Although one version seems more naturally based while the other is much more geometrically based, it can be seen how relatively close the two design pieces are to each other. It also goes to show how powerful the compositional narrative of flora and fauna is to the embroidered arts on Crete, so that abstract pattern work can still closely follow the same markers produced through a more natural style.
The theme of flowers, trees and birdlife is typical of much Cretan embroidery work and this relatively formal representation, including an almost symmetrical mirror-like effect on much of the pattern work, reflects the elaborate and formal embroidery work produced during the Byzantine period. However, there are also strong links with Persian work and the wider, more florid range of decorative arts that was traditionally part of the Venetian decorative arts. These three examples produce a good analogy as to the complex and constantly overlaid influences that have made up such a significant amount of the decorative arts of Crete.
It is no exaggeration to say that the embroidery work produced over generations by the women of Crete, is a living example and constant reminder of the wealth of decorative art that spans millennia of numerous Mediterranean empires and powerful trading cities. However, this was always linked to the work of generations of anonymous Cretan girls and women who have constantly been adding small, but significant details to the history of an evolving decorative craft that reflects the complex and diverse cultural and political history of this particular Greek island. The influence of these generations of embroiderers should not be seen as insignificant in comparison to the great decorative themes of history. After all, there would have been no embroidery at all if it were not for the generations of patient and skilled workers.
Originally Published in The Textile Blog by John Hopper