Retailers formulate innovative strategies to converting a one time shopper into a long time and loyal customer.
Apparel business has grown highly competitive, forcing retailers to come up with innovative strategies. To survive the retail game, it is therefore necessary for every retailer to have a competitive edge in the market. In addition to other tricks of trade, retailers prefer to establish a one-to-one relationship with their customers, to augment their sales performance. Retailers seek for 'Loyalty Programs' to gain direct access to their customers and enhance rapport with them, and have a long time relation. Loyalty programs help retailers to identify, communicate, and market to the end users. Concurrently, it also enables them to maintain the distributor relationships.
Apparel retail industry is mainly influenced by shopper trends. A retail industry survey states that based on the customer psychology, and buying attitudes, apparel shoppers can be classified into three main categories; fashion forward customers, looking for latest style clothing, conservative customers who prefer a traditional look in their garments, and value driven consumers who give more preference to value and comfort comparatively over style.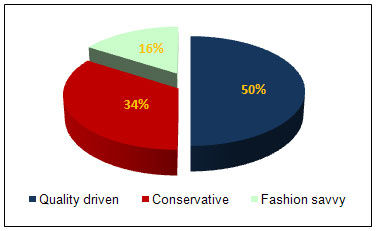 Of this, customers more focused on the product's value make 50% of the population; fashion savvy customers consist of 16% of the population, while conservative customers make up the remaining 34%. Conservative consumers are more motivated by the loyalty programs, and store credit cards.
Retail loyalty programs to lure customers:
Generally most of the customers are involved in one or the other loyalty programs. One third of the customers are involved in multiple loyalty programs. Retailers and brands with deep pockets also go in for loyalty programs so as to create repeat and loyal customer base. Retailers including Shoppers Stop, Future Group, and Spencer have come up with attractive schemes. The program credits their customers with points every time a purchase is being made. Points are accumulated to acquire a more valuable reward later on. The customers can redeem the points to gain certain other benefits. It may include a range of options such as; a certain percentage of discount during their next purchase, or a fuel fill, or a travel ticket. Special promotions are also offered during the card holder's anniversary, and birthday. A top-up discount based on the frequency of visits is also being offered.
Future Group's association with Germany's Payback has resulted in a loyal program wherein Future Group customers can redeem their points at Payback clients in India such as ICICI bank, and Air India. Retailers made alliance with other organizations which enables their customers to redeem their points elsewhere, apart from their own retail store, or their related business formats. This motivates the customers more, and results are crystal clear with Future Group's 60% sales resulting out of loyalty programs. Economictimes.indiatimes.com reports Shoppers Stop MD Govind Shrikhande saying, "Such expansion of loyalty benefits increases stickiness of consumers to the stores and brand. User spending tends to go up if they get multiple benefits from the same card."
Do the brands benefit?
Big brands such as Adidas, Nike, and Levi's have fostered loyalty programs to foster customer loyalty. These kinds of retail strategies deliver immediate value, brand preference and personal significance. Loyalty programs create and emotional bonding resulting in a lifelong retailer customer relationship.
Strategies for Success:
A loyalty program initiated by a retailer or a brand indicates that it gives value to its customers relationship, and expresses its appreciation. Though the concept of gifting benefits to customers can be justified, positioning the program is critical. Care must be taken that the benefiting customers should not get the impression that these rewards are a routing discount. Rather, the program should also focus on building an involvement in the customer's mind for the brand or the retail store. The scheme should also have adequate timeframe to establish its success.
Based on how it is formulated, and worked up on, loyalty programs can add or deteriorate a brands reputation. Loyalty programs would retain customers, and give effective results if the retailer ensures that the product offering and related service are as per customer expectations, and meet his needs.
References:
1) Brandchannel.com
2) Economictimes.indiatimes.com