Retailers formulate innovative strategies to converting a one time shopper into a long time and loyal customer.
Apparel business has grown highly competitive, forcing retailers to come up with innovative strategies. To survive the retail game, it is therefore necessary for every retailer to have a competitive edge in the market. In addition to other tricks of trade, retailers prefer to establish a one-to-one relationship with their customers, to augment their sales performance. Retailers seek for 'Loyalty Programs' to gain direct access to their customers and enhance rapport with them, and have a long time relation. Loyalty programs help retailers to identify, communicate, and market to the end users. Concurrently, it also enables them to maintain the distributor relationships.
Apparel retail industry is mainly influenced by shopper trends. A retail industry survey states that based on the customer psychology, and buying attitudes, apparel shoppers can be classified into three main categories; fashion forward customers, looking for latest style clothing, conservative customers who prefer a traditional look in their garments, and value driven consumers who give more preference to value and comfort comparatively over style.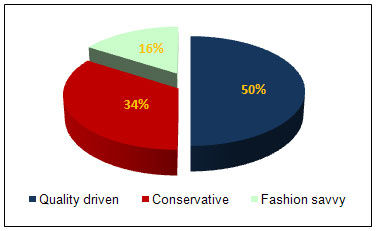 Of this, customers more focused on the product's value make 50% of the population; fashion savvy customers consist of 16% of the population, while conservative customers make up the remaining 34%. Conservative consumers are more motivated by the loyalty programs, and store credit cards.