Bamboo clothingOne of the most sustainable gifts of nature to mankind. Similar to the growth of a bamboo plant, fame of bamboo clothing is also gaining global attention.
Bamboo has always been a mystical plant. Asian culture believes human race evolved from a bamboo stem. Malaysian legends speak about the first man who discovered the first woman from within a bamboo shoot. Japanese folk tales talk about the moon princess who emerged from a bamboo plant. Bamboo plant grows faster up to one foot a day, needs very little water, and posses many eco friendly virtues. Bamboo has multiple applications for making various products.
Clothing made from bamboo fibres are regarded as eco-friendly due to its remarkable attributes. While growing, bamboo needs very less or no pesticides. Scientists have discovered that this is due to an anti-bacterial agent known as 'kun' present in bamboo plants. Bound closely with the bamboo cells, kun is the reason for the durability of bamboo fabrics. Due to its resistance ability, bacteria that are formed in the bamboo fabric do not stay in the fabric for long.
Stalks of bamboo are converted into raw fibres, which are made into fabrics. Generally two kinds of processes are used. One is the mechanical method where bamboo plant is crushed into pulp. Its woody parts are crushed and natural enzymes are used to break the walls into a mushy mass. Then natural fibres are mechanically combed and spun into yarn. This method is eco friendly. The fabric thus manufactured is called bamboo linen. However, the process is more labor intensive, and costly resulting in very less production.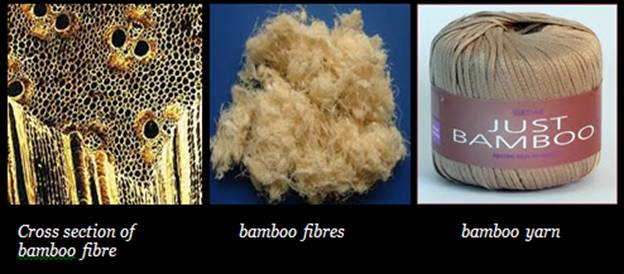 The other one is the chemical method, in which chemicals are used to cook the bamboo plants and leaves into a solution from which fibres are drawn. A common method called hydrolysis alkalization is used which involves multi-phase bleaching, making the whole process unsustainable.
Also known as poor man's timber, bamboo is quickly becoming the source of livelihood for many people; worldwide. It is also a sustainable resource for many manufacturers, a trendy option for fashion designers, and a preferred clothing choice for consumers. Bamboo used for textile production is cultivated exclusively in Taiwan and China. India has its share of the pie with their presence in the bamboo market. Gandhi led the famous Dandi march holding his confidence and a simple bamboo cane. Today, with the second largest concentration of bamboo forests globally, bamboo still leads the way in India. Africa, Eastern Europe, Latin America, and Middle East trail behind. Moso bamboo (Phyllostachys pubescens) is used for textile manufacturing. This is a type of tropical grass, which is not the food of the pandas.
Virtues of bamboo clothing:
Currently, viscose obtained from bamboo is getting increasingly available. It can be machine washed, and unlike other fabrics, does not need multiple washes. The texture of viscose obtained from bamboo has an elegant look, and a soft feel when compared with silk and cashmere. Yarn made from bamboo has good tensile strength and durability. Viscose made from bamboo is certified as one of the best organic material. Bamboo fibres are 100 percent bio-degradable.
Fabrics made from bamboo viscose are anti-bacterial by nature, and hence is good for people with sensitive skin. Used for home textiles, these fabrics are good for people with allergies. These fabrics are breathable, and do not cling to the skin, thereby giving a cooler effect to the wearer.
T-shirtmagazineonline.com quotes Jing Liu, lead designer of Juzd, bamboo clothing brand saying, "The main reason people buy the shirt is the custom designed and milled bamboo fabric. It feels lightweight, breathable, and it kills body odor and bacteria. Yes, it KILLS bacteria, so you can wear this shirt for 5 or more days without washing. It keeps you cooler in hot days and warmer in cold nights. It's UV protectant so it protects you from skin cancer".
Bamboo gets into the fashion spotlight:
Bamboo fabrics are becoming a more preferred choice of fashion designers. Many renowned fashion designers use bamboo fabrics in designing their collection. Oscar de la Renta, Diane vonFurstenberg, Agnes B, Kate O Connor, Alfred Sung, Linda Loudermilk, and Sara Kirsner are a few to name. The luxurious softness, smoothness, and flowing gently drape of the fabric makes it, a preferred choice for eco designers.
Textiles made from bamboo are economical, aesthetically pleasing, durable, and comfortable. Easy to produce, and maintain, along with added health benefits, bamboo fabrics are likely to become a favorite textile in the years to come.
References:
1) Greenearthbamboo.com
2) Bamboogrove.com
3) T-shirtmagazineonline.com
Image Courtesy:
1) Eartheasy.com
2) Iroiroknits.blogspot.com