Justlike any other brand, an Employer Brand has value and positioning. Employerbranding is critical to build an image in the minds of potential employees andmarket the company as a 'great place to work'.
Theobjective of Employer Branding is quite simple. It is a strategy employed by anorganisation to create an Employer Value Proposition (EVP) that conveys todesired current and prospective employees why the organisation is unique,appealing and a fantastic place to work in.
EmployerBranding gains tremendous importance in times when the talent pool is shrinkingand is becoming increasingly difficult to attract and retain talent. It thenbecomes critical to position the organisation in the minds of the targetaudience to give it every possible advantage in attracting employees withsuperior skills and knowledge - a primary source of competitive advantage forany organisation.
IsEmployer Branding widely prevalent in the Indian Industry? What areorganisations' attitudes and preparedness towards Employer Branding? What arethe challenges that they face in its implementation?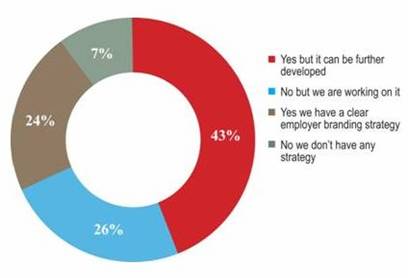 Ina survey conducted by TJinsite the research site of TimesJobs.com it isrevealed that Employer Branding is not very prevalent in the Indian industry.However, they do believe that companies with strong employer brands canpotentially reduce the cost of employee acquisition, improve employee relationsand also helps increase employee retention.
TheLatest TJinsite Research Report throws light on this fact - Overall, only 24%say that they have a clear Employer Branding strategy. More than 40% claimthat, yes, they have a strategy, but it could be developed further; and another26% who say that do not have one, but they are working on it; which could beinterpreted as 'such a strategy is not priority, we have more pressing matterson our hands!' A lack of vision and clarity is seen as the primary challenge inrealizing Employer Branding. This is strongly felt in the BFSI and the BPOsectors, where 75% state this as a problem.
Another 40% state the lack of senior management engagement as a challenge, which is again symptomatic of the lack of vision on the organisation's part. All channels from print to online job portals are mentioned by 15% each of the organisations as the branding channels delivering the best results. The BFSI and large organisations, with a strength of over 1000 employees are inclined towards job portals being the most effective (22% of each of these types, vis-a-vis an overall average of 16%).
The case for taking Employer Branding seriously is compelling. Currently, it would appear that not enough criticality or importance is being attributed to this process. In an economic climate where business is tough there is pressure to cut costs and increase productivity. This makes the need to get the right people in the right job even more crucial. Employees who have the right skills, experience and knowledge, in relation to the critical areas of a business to drive growth, become strategically important. Employer Branding then becomes the only strategy that will help position the organisation as the most attractive one in the corporate ecosystem.
An attractive employer can create for employees an illusion that their choices are limited outside of the organisation, constantly maintaining an image of being the most desirable employer, giving the right reasons or incentives for their top performers to stay.
Originally published in the Economic Times dated March 21st, 2012, the Economic Times Bureau.