Denims are every one's favorite. Handloom denims create an aura forevery fashion savvy environmentalist.
Traditionalweaving by handlooms is one of the richest aspects of Indian culture andheritage. The intricacy and artistry involved with these fabrics areunsurpassed for their uniqueness. Handloom fabrics have a unique texture andstyle unmatched by machine made fabrics. Apart from this, handloom fabrics aremade mainly using natural dyes which make the apparel eco-friendly.
Denimsare one of the strongest fashion trends. Complementing any body type, color,and age, denim apparels rule the heart of every individual. In the world wheretrends keep changing at the drop of a hat, one trend that stands the test oftime is denim. But some techniques used to process denim to go with fashiontrends are highly polluting and hazardous. The journey of denim apparelsinvolves numerous stages, and using many unfriendly chemicals. Techniques suchas sizing and mercerizing discharge harmful effluents. Dyeing of these fabricsare done using synthetic dyes often made from coal or oil. Other techniquessuch as sand blasting, engage processes that are hazardous to the workersinvolved.
Increasedawareness among consumers and regulatory standards has increased the importancefor sustainable clothing. They are gradually getting into mainstream fashionand consumer preferences. This trend, rather a necessity, has influenced themaking of denims also. Denim apparels and other accessories are made fromhandloom denim fabrics.
Arecent development in the making of denim fabrics, handloom denims are muchsofter than mill made denims in comparison. While talking about the virtues ofhandloom denim fabrics, Mr. Rajesh Dudeja, Founder, DCI (Denim Club India),says, "Denim made on handlooms is softer than mill made denim, has aunique texture and breathes well and helps feel cool in summer and retain bodywarmth in winter. Energy impacts of handloom denim being offered by Denim ClubIndia are almost zero, no energy is consumed either in the weaving processes orin forms of transportation of weavers to their place of work, thus resulting ina fabric with very low carbon footprint."
Manufacturing process:
Fingers of the weavers play lovingly over the looms, unfolding the rare form of artistry much similar to a symphony composed by a musician. Handloom denims are different from mill-made denims in a way that it is made without using motorized machines throughout all stages of production. Similar to industrial processes, both warp and weft yarns pass through the same stages, but the entire process is carried out manually.
Mr Dudeja says they use mill-made cotton yarn, which they get in cone form. This yarn is converted into hank form, which is then dyed in a cabinet dying machine. During the entire process of making handloom denims, this is the only stage when fuel is used. The dyed hanks are sized, manually by dipping them in a solution. Later the sized yarn is reeled on bobbins, creeled, and a warp beam is made. This beam is then mounted on the handloom for weaving. Similarly, the weft yarn is reeled into pirns, on a hand based device. Production levels are low, and are completely manual.
Mr. Dudeja enthusiastically explains about the wearability and durability of the fabric.
"Handloom denim is a true eco-friendly fabric as it does not require any kind of chemical washing post the weaving stage. The inherent softness and wearability of the fabric eliminates the need for any kind of distressing or softening of the fabric or garments and no use of harmful chemicals or acids is required at all. Garments and other items made out of handloom denim can be used by infants, kids and everyone with a soft and sensitive skin due to the fabric being chemical free and soft. "
Potential Applications:
Denim fabrics made from handlooms have all potential applications in par with mill made denims. Attractive designer wears, garments, jackets, vests, rompers, shorts, vests, shirts, school uniforms and other trendy fashion accessories can be made from this fabric.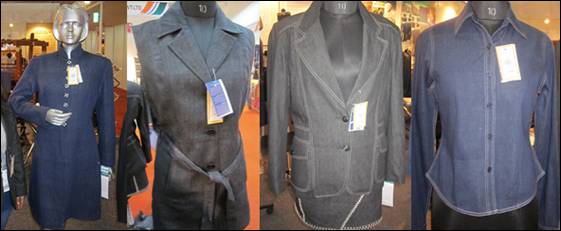 Price considerations:
Many myths revolve around sustainable clothing choices, the first being that they are way too expensive. Handloom denims are of superior quality, but are they economical enough to fit into the customer's wallet? It is an undeniable fact that they are expensive. When designers attempt to come up with a product that will benefit the environment and the living beings, the cost of organic and eco friendly raw materials prove to be expensive. Apart from that, these apparels are currently not mass produced, which makes the process expensive.
Mr. Dudeja's views also support the same. He quotes, "The handloom denim fabric is almost thrice the cost of mill made denim. The primary reason for higher price being the higher time and manual effort required to weave denim on handloom. On an average, a weaver can only manage to weave around 3.5 to 4 metres of denim fabric per day whereas an average automatic loom churns out around 500 metres of fabric in a day. Over a period of time, when the volume of production increases, the cost of production might go down slightly due to the benefits of economy of scale. "
Prospective market conditions:
Handloom denims are a very recent development. With more customers opting for sustainable clothing, handloom denims foresee a bright future. When asked about the market potential of the handloom fabric Mr. Dudeja cheerfully quotes about DCI's recent exhibition held on January 2012.
"A large number of people were attracted to the stall by the handloom denim garments on display and most were amazed to learn that all the garments on display had been made from authentic handloom denim and were highly appreciative of the initiative."
"There are a couple of buyers who are very excited and interested in procuring the handloom denim fabric. However, so far most of the denim fabric has been used by Denim Club for converting into garments. The response received from buyers in Europe, Japan and South Africa has been very encouraging. Denim Club India will be showcasing a complete range of fabric, garments, bags & accessories and home furnishing items made out of handloom denim in the upcoming InDIGO 2012 on 20-21 April, 2012 at Epicentre, Apparel House, Gurgaon, marking the commercial launch of handloom denim made-ups."
In India, a large number of traditionally skilled weavers are leaving their profession due to lack of recognition, and demand. If handloom fabrics are patronized, the traditional craft will flourish. Customer's increasing awareness, and the resulting acceptance for sustainable products, and its growing demand in domestic and international markets will bring denim fabrics into limelight.
Image Courtesy:
Denim Club India