Apparel retailers are in for the gold rush. eCommerce has magically changed the way of conducting business.
Electronic commerce, more popularly known as e-Commerce, is used to market goods or services online. Also referred to as Online commerce, Web commerce, eBusiness, eRetail, and eTail, the trend is now picking heat.
eCommerce sites are different from typical web sites in a way, that they have more features enabled comparatively over a normal website. They include features like shopping cart, automated inventory system, database, ability to process credit cards and other non computer technologies such as product warehousing. eCommerce sites offer cheaper upfront cost to retailers. It is comparatively easier to set up an online business, and make sales. It creates new business with potential customers, associates, and manufacturers. As it is easily accessible by customers from across the globe, it opens a world of opportunities, which may otherwise not be present.
e-Commerce for Apparel Retailers:
A Forrester forecast states that eCommerce business will see a drastic growth from $176.2 billion in 2010 to reach $250 billion in 2014. This is a whopping growth, and spotlights a clear-cut trend of online shopping. Computer, apparels, and consumer electronics make 44% of online sales. Apparels are bought throughout the year, and with more money spent on apparel shopping, it is a positive signal for apparel retailers.
Image courtesy: solutionists.com.au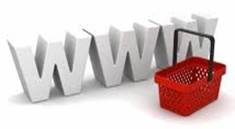 Customized software will enable an apparel retailer to gain competitive advantage in the marketplace. Though initial costs make the process expensive, the long run benefits accrued by the retailer make the costs justifiable. Considering eCommerce options depends upon certain key factors. Mr Frank Gilbert, Managing Director, Solutionists shares his views with Fibre2Fashion regarding how an apparel retailer can make his decision. He lists down three key elements for considering eCommerce solutions.
"How important is your brand? You will always need to customize the look and feel of the site, to ensure that the site matches your brand and any other signage, store fit outs, or marketing materials. How much you spend, depends on how important and different your company brand and brand positioning is (vs. your product brands).
How unique is your offering? If your key diffentiator in the marketplace is innovation or a different way of doing things, then customizing the site is necessary to maintain your competitive advantage. In this situation, the more you spend, the stronger your advantage.
How complete is your ecommerce platform? If you try and save money by selecting a low cost, limited feature website platform, you may find it necessary to add expensive customized components later, to remain competitive. A more advanced platform from a specialist supplier, will usually have these key features included or as optional modules."
The eCommerce benefits:
The process of incorporating eCommerce has several benefits to both retailers, and customers. From the retailers part, it includes cheaper upfront costs, and gain wide market access. For the customers, shopping is made easier. Frank points out that overhead costs will be lower while running an eCommerce store, comparatively over physical stores. He quotes, "In saying this, we do find that the retailers who put the most investment into their web stores in terms of initial build, staffing, upgrading, and general maintenance are the ones that generate the most impressive profits and general online presence. When comparing these investments to the costs of rental and store fit outs however the costs are still significantly lower. A website typically needs to be "updated" more often than physical stores to keep up with shifts in buyer behavior, social media and ecommerce trends and developments."
He further points out the reach an online store has. "You are quite literally selling to the world with an online store, and it is important that fashion retailers capitalize on this by investing in a strong SEO strategy, online marketing and simple, affordable shipping rates. Shipping costs is the number one influencer when it comes to online purchasing, and we normally recommend retailers absorb shipping costs as much as possible when it comes to venturing into the global marketplace in order to improve brand awareness and conversion rates."
Rewards and challenges:
Nothing in this world is an unmixed blessing, and eCommerce business is no exception to this. It has its own benefits and drawbacks. eCommerce business helps to establish new opportunities, and customers even from remote locations. Unlike a physical store, websites are accessible 247, giving unlimited store hours. Contacts can be made through email, phone or fax. It enhances brand awareness, and increases customer loyalty. Overall, it increases business profits.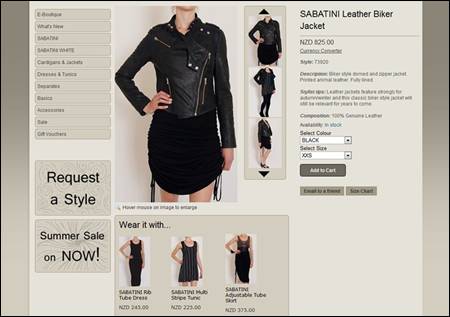 Image courtesy: solutionists.com.au
Frank elaborates the benefits. "Clothing is the third biggest seller online and there is no doubt that customers expect to be able to access your product on all touch points, whether that is on the web, mobile, tablet, iPad etc. With upwards of 60% of purchases in store been driven by online research your entire business sets to profit from a strong ecommerce offering. Features such as wish lists, ratings & reviews, contact forms and customer feedback also provides you valuable insight into the minds of your customers, and what they like and don't like about your business or product."

Challenges lie in understanding and using the process of online model. Frank states, "This normally occurs with things such as user friendly data, i.e. the color ways in their retail management software may be CH, but customers need to read that as Charcoal, fulfillment does there need to be an automated process for stores to fulfill online orders or will it be done out of head office, color display product images may need to be mapped to color SKUs in order to control the way the color ways display, and so forth. Solutionists ' extensive experience working with fashion retailers has fortunately allowed us to develop many website features that solve these kinds of challenges before a retailer is even aware of them."
Multi chain retail- the challenging aspect of eCommerce:
With his professional experience and expertise, Frank further recounts that running a multi-chain retail is the most challenging aspect of eCommerce project. It requires a lot of thought process he says. "A lot of thought needs to go into integrating the product data, matching in-store and online promotional offers, displaying the right product information, pulling stock levels from multiple stores, handling returns, hold and laybys, and fulfilling orders. The more product data a fashion retailer has, the more scenarios you have to consider when designing the website build, such as products with duplicate codes from past seasons, different color ways set up as separate products, setting a buffer to deal with on hold garments and fulfilling an order that has items spread across multiple branches. Fortunately Solutionists have dealt with so many fashion chains over the years that we have faced a huge variety of these challenges, and have created unique software and solutions to solve them."
Evolution:
Franks positively asserts that there is obviously a boom occurring in terms of mobile commerce, whether that is an app or a mobile website. He confides, "While this one segment is hugely important for retailers at the moment, Solutionists believe it provides valuable information about where ecommerce is headed in the future being accessible from multiple touch points. As technology and the way customers use it changes, fashion retailers need to be on their toes in delivering their product in a way customers want to absorb it, whether that is by using a full ecommerce website on a laptop, comparing products and making purchases via smartphone, or viewing a new season range on an iPad."
Apparel retail business is now booming online due to its convenience, inventory, and variety. Options and services in online stores, which are not available in many physical stores, motivate shoppers to go for it.
References:

Practicalecommerce.com

Techcrunch.com