A new norm stipulating that only the 'owner of the brand' can invest in Indian retailers selling goods under a single brand threatens to derail their overseas fund-raising plans.
The Foreign Investment Promotion Board, the nodal agency that clears investments entering India, is considering the proposal of an Indian retail company to induct a foreign private equity fund as an investor. The proposal is being closely watched as its fate will determine the ability of Indian single-brand retailers to access foreign capital.
The new norm, restricting foreign investment to the owner of the brand, was notified in January 2012, when 100% FDI was allowed in single-brand retail.
Lawyers working on retail-related transactions say the guideline potentially prevents fast-growing Indian retail brands in sectors ranging from furniture to apparel, from accessing funds from overseas financial investors, private equity players, and perhaps even from foreign single-brand retail companies.
At present, ambiguity is at two levels. The 'owner of the brand' criterion appears to disqualify financial investors and PE players from investing in single-brand retail companies. But there is also confusion on whether an Indian shoe retailer can induct a foreign brand such as Nike as an investor since Nike will not own the Indian brand.
Private equity players, with deep pockets and aggressive growth plans, are stymied by this development. "This clause could be a hindrance. We are discussing with our lawyers to understand it and are awaiting a clarification on it," said Ravi Thakran, managing partner at L Capital Asia, the PE arm of the world's largest luxury conglomerate LVMH Group. L Capital has recently invested in Fabindia, the marquee ethnic wear Retail Company, and Genesis Luxury Fashion.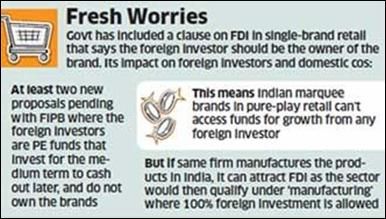 "This results in a strange situation where a foreign brand can be brought to India in a wholly-owned Indian subsidiary that can be capitalised to any extent while an Indian brand cannot have access to private equity and can, therefore, be subject to capital-rationing," said Percival Billimoria, senior partner at AZB & Partners.
Some legal experts say it is not clear whether this guideline also bars a foreign brand from acquiring a stake in an Indian single-brand retailer.
"There is lack of clarity on whether foreign brand owners can invest in an Indian entity which is into pure-play retailing of goods under a single brand," said Akila Agrawal, partner at law firm Amarchand Mangaldas.
Indian single-brand retail companies are surprised at this possibility. "This makes no sense to me. Indian retail companies should be allowed to access expertise and capital from foreign brands. We cannot spend 150 years learning how to retail," said Hidesign founder Dilip Kapur. LVMH picked up 20% in the retailer in 2007.
There is, however, one escape clause for retailers who want to induct foreign investors. The current guidelines say that if the brand is 100% owned by an Indian resident who manufactures the products within the country, the relevant sector is 'manufacturing', which allows 100% FDI.
"Indian businesses that have separate companies for manufacture and retail should ideally restructure in order to accept foreign investment," said Agrawal of Amarchand Mangaldas.
The new controversy is the latest in a series of flip-flops by the government on foreign investment in retail. After years of debate, the government cleared a proposal in November 2011 to allow foreign investment in multi-brand retail only to roll back the decision after a couple of weeks on strong resistance from political parties.
Even in single-brand retail, where 100% foreign investment has been allowed, some riders are prompting foreign players to tread cautiously. A clause stipulating that single-brand retailers should source 30% of goods from Indian small and medium enterprises if foreign investment goes beyond 51% has forced Swedish furniture retailer Ikea to put off its India plans.
Italian luxury brand Canali picked up 51% stake in a joint venture with its Indian franchise Genesis Luxury Fashion although it had the option to set up a wholly owned subsidiary. It reportedly did not go beyond 51% as higher shareholding would have required it to adhere to the new government ruling on local sourcing.
"Supervision of the rule on at least 30% mandatory sourcing from small industries will be a challenge," added Agrawal. "It is widely believed the government will relax this rule on a case-to-case basis. That will help assuage the concerns of foreign investors."
Originally published in the Economic Times dated March 29th, 2012, written by Chaitali Chakravarty & Paramita Chatterjee with inputs from Ravi Teja Sharma associated with the Economic Times Bureau, New Delhi.
Image Courtesy: