The traditional garment worn by Indian woven is called the saris or sari. While the exact origin of saris is not known, yet researches have shown existence of saris way back in 3000 BC in the Indus Valley civilization. The central Indian state of Madhya Pradesh is Renowned for its Chanderi saris.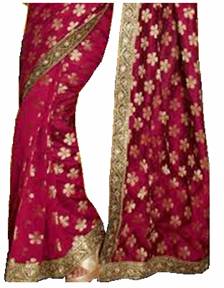 Madhya Pradesh has not only rich deposits of monumental heritage, green woods and abundant wildlife but it also has created a niche for itself though the art and crafts of the region. This is because of the people and their age old traditions that have been besieged upon them by their ancestors. The contrast variety of handicrafts that add charisma and uniqueness to Madhya Pradesh prevails amongst the ebullient festivity.
Chanderi is one of the best-known handloom clusters in India. It is particularly famous for its saris and is made with mix of silk and cotton. But if we look history, Chanderi has been adapting itself as per needs. Sari is the product of second half of twentieth century only.
In the heart of India beyond forests and valleys, is famous weavers town of Chanderi in Guna district of Madhya Pradesh. Dacca muslins were comparable to Chanderi cotton long back. The weavers of Chanderi created the present form of Chanderi saris when the British introduced mill-made fabrics to compete with Indian handlooms. They used a silk warp with a fine cotton weft without compromising on the intricate gold borders and jewel like butties. Ever since then the weave continued to remain as delicate and exquisite as it was.