Modern interpretation of ancient Greek costumes have an amazing, graceful look, and charm. Sheer, light and drapping Greek inspired outfits bring together the power of feminity and elegance.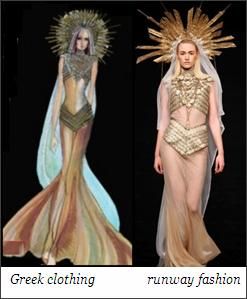 Greece is relatively a small country in the Eastern Europe. A country of eminent thinkers, manners, costume, and civilized wisdom has put the country at the global forefront. The archaeological finds of Greece have created a good source of Greek era especially related to their clothing styles. Greek costumes are a part of their rich cultural history. Pictorial evidences exhibit the clothing fashion of ancient Greeks artistically, and creatively illustrated on vases, pots, and statues.
Greek apparels are artfully arranged pieces of clothes folded, tucked, pinned, strapped or belted in position. Simple borders fall into appealing patterns when arranged as long chiton robes. Embroidery was also used to embellish their garments, make fabric edges, and create border effects. Clothing styles of Greece has also influced the fashion culture of other nations.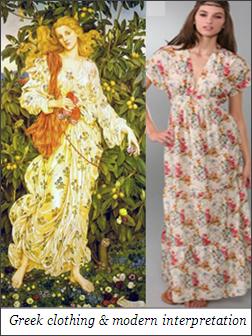 Greek clothing styles:
Greek apparels were mainly made out of wool and linen. Linen fabrics were used for drappery, and fell in soft folds. Clothes were essentially the same for men and women, drapping around the body in soft folds, with no tight fitting.
Doric Chiton is an apparel made from wool, and dyed in indigo, saffron, or madder. While men wore it up to knee length, women's chiton was floor length. Ionic chiton, most often used as a garment for women, was made of crepe like thin woolen, linen or delicate muslin. Linen was more preferred due to its flexible nature. The himation is a rectangular piece of wool slung over the left shoulder leaving the right arm free. This was worn during cold weathers. Mostly worn by married women, the corner of the cloth covered the head like a shawl. White, black, brown, purple, crimson, and scarlet hues were mainly used.
Ancient greeks also wore a chlamys, a piece of clothing pinned at the right shoulder or the front, worn with short chiton by much younger men. Rectangular or square in shape, the chlamys was thrown around the shoulders, and fastened with a bronze pin. They wore a peplos folded over, and hanging across the top of the doric chiton. Ancient greeks used borders to create drapery interest. Tubular in shape, the upper edge of the peplos was turned down at the waist, and was tied with tapes on both shoulders.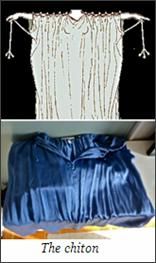 An inspiration to contemporary designers:
From the history of fashion apparels, fashion styles repeat itself. Ancient Greek culture has influenced modern fashion designers over and over. A cylindrical piece of cloth can be made into a dress and a top with a morphing neckline. A little black dress can be worn forward, or backwared with caped sleeves. Cone shaped cloth converts to a shirt and skirt; reversible. Designer's new muse captures ancient Greek beauty with elegant draped shapes to rival classically fluid forms.
With a flurry of ruffles, pleats, and drapes, Greek clothing displays a spectacular look in fashion shows. The most interesting aspect of Grecian clothing is that it can be twisted, tied, and wrapped to create different looks. Most common influences are motifs of Greek mythology on clothing, and jewellery.
Greek drapes: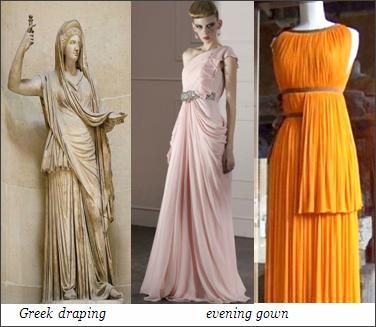 The Ionic chiton apparel was revived by Edwardian fashion designer who created gorgeous tea gowns. It was much adored by women as it was comfortable, relaxed, and showed off their feminine features.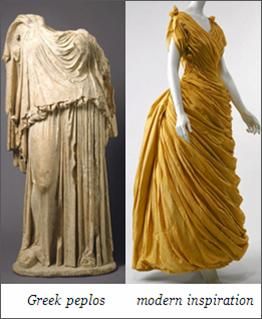 The drape pattern of the Greeks are revived by modern designers in evening gowns with elaborate pleats, at the waistline and below the neckline. Such drapes add a soft touch to the outfit and give a more feminine appearance. Greek togas have become a popular celebrity craze, that hollywood stars are seen on red carpets with gowns having elaborate drapes and pleats.
One shoulder outfits: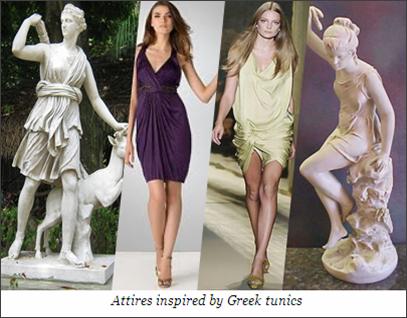 One shoulder necklines of the Greek are truly a timeless trend, and is here to stay. A single strap attire with an asymmetrcal neckline running diagonally across from one-shoulder to the opposite underarm makes an appealing outfit. Exotic appeal of the garment along with a glamor quotient adds to the popularity of this clothing. Women state they get the godess feeling with a one shoulder and floor length gowns.
Gladiater shoes & headbands:
Inspired by Greek gladiators, sandels with such patterns are sported by both men and women. Ever since their inception, these sandals have gone through a number of changes going in par with the trend, but still retains its craze suiting every taste and style. Airy and comfortable, they make a perfect summer choice.

A pretty jeweled headband revived from the Greek style gives an influencing princess look. The ancient Greek tradition of women wearing floral headbands is a trend that is catching up fast. Leaf motifs make a perfect headgear. These bands give a more feminine look, enhancing the face and adding a dreamy charm.
Greek clothing styles were very elaborate and way ahead of times. Modern fashion designers have acquired a lot of inspiration from ancient Greeks bringing the age old civilization into mainstream fashion. They are adored for its glorifying beauty and simplicity. The timeless beauty and artistic nature of the Grecian are acclaimed even today. It simply drifts one to a dreamy godess of yore.
References:
1) Fashion-era.com
2) Richeast.org
3) Stylelist.com