Luxury brands picky over staff; mandates resemble matrimonial ads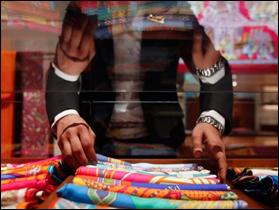 Global luxury brands setting up shop in India are taking care to choose sales staff who endorse the brand's appeal in look and act, in stores designed to encourage the well-heeled to splurge. Little wonder then, the attributes required of potential candidates for such jobs beat even the most ambitious matrimonial advertisements.
Sample this broad mandate to staffing firms, which are understandably reluctant to share the actual briefs: "Wanted: A slim, beautiful, MBA degree holder from an educated family for a job as customer service staff with one of the most reputed luxury houses. The employee once recruited will be trained on customer handling, which includes knowing all details of buyers, like the pet's name, what the family dog eats etc. He or she will be required to wear the clothes from the latest season, use a fragrance of a particular brand alone and don a haircut that represents the luxury house the right way. Starting salary is Rs 35,000-50,000 a month plus commission from the sales and perks like grooming will be taken care of.
"Religion, caste and colour no bar (some locations will have a colour preference keeping customer sentiments in mind). However, customers should not get intimidated, because a large chunk will be first-time buyers in India. Therefore, the employee cannot have an aura about him/her and be prepared for mystery audits. Portfolios should be attached with resumes."
A luxury house asked staffing firm TeamLease to get applicants to send full-length photographs in western wear. Clients are sensitive to weight, too, says TeamLease senior VP and co-founder Sangeeta Lala, who adds that her firm recruits marketing students from second-rung MBA programmes, for fashion houses.
While the profile requirements may be the same for suitable men and women, more women get recruited as store staff. Again, though nobody admits it, those with fair skin are picked for the northern parts of the country, while duskier hues find greater acceptance in the south. While a store manager with 15 years of experience can make at least 1 lakh plus commission on the sales at such establishments, salaries start at Rs 35,000 plus commission. As luxury brands seek homogeneity in their stores across the globe, they are trying to polish their staff in India to a new sparkle.