Kidswear generally meant pale pink for girls and navy for boys. This concept is going through a phenomenal change, and the immense growth of brands in kidswear sector indicates the incessant strength of the segment.


Kidswear is a miniature version of adults wear. Kids today have all clothing options like that of adults, and even much more. They are much more intelligent than the previous generations, and like to take their own shopping decisions by themselves. Kids are becoming more fashion savvy; ready to experiment with new styles. Glued to the latest fashion trends, children of today have become brand conscious. Increasing media awareness, growing amount of disposable income due to dual earnings, and growing brand consciousness among children are fuelling the market for kidswear.
Children becoming independent buyers are now boosting the growth of kidswear market. A report by Assocham states that Indian kidswear market sees profitable growth opportunities, and is likely to reach ` 80,000 crore by 2015.


Indian kidswear apparel market size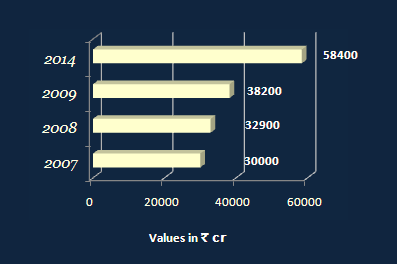 Growing online retail trend:


Earlier children's garments were purchased from small stores, and street shops. Branded clothing was only bought by high status people. This trend is going through a change wherein market for branded clothing is gaining importance. Along with it, shopping methods are also going through considerable changes. The advent of ecommerce in India has created an explosion of online shopping stores. With kidswear as one of the fastest growing segment of the apparel market, online retailing for kidswear is also witnessing tremendous growth potential.
Much of the people who access online shopping portals are youngsters. A report by the Internet and Mobile Association of India states that of the total internet users 75% of them are youngsters. Of the total estimated 9 million youth using internet, 1.9 million of them are kids. This section is positively experiencing a 70% year-on-year growth. Parents also take pleasure in the retail therapy of the online world. For parents who are working and find it tedious to go out for shopping, online retail is more comfortable.
Growth of online retail is apparent by observing the sales figures of online portals specializing in kidswear. The immense growth of online market for kidswear is attracting eyes of brands with deep pockets. Brands such as FirstCry, Babyoye.com, and M2C are some portals that are getting successful in selling kidswear; online. Noted kidswear retailer Monte Carlo of Oswal Woolen Mills is seeking entry into the online segment targeting `2 crore worth of sales in 2012.
Most of the online retail stores are multi-category, while some are niche shops catering to specific shoppers. Most of these retailers are already into men and womenswear clothing line and with the entry into kidswear segment plan to become a one-stop-family-shop.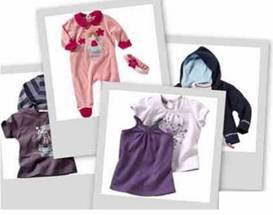 SWOT Analysis of Online Kidswear Market:


Strength:
Convenient shopping for working couples.

Penetration in II and III tier cities offering a wide range of shopping options for parents here, which is otherwise not possible.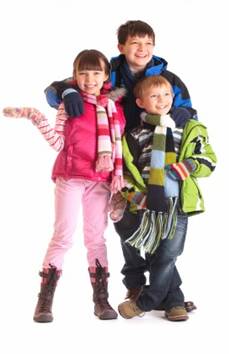 Weakness:

Sizing is a big concern.

Quickly changing fashion trends will create inventory issues.
Opportunities:

Increasing number of internet users, specifically youngsters.

75% of the young population is under 35, making a good target market for online retailers.

Entry of more number of big and international players will further expand the market.


Threats:

Weak back end logistics.

Merchandise must not be toxic.
Kidswear market is also penetrating into II and III tier cities like Chandigarh, Pune, Indore, Varanasi etc. The segment is also witnessing a foray of high profile designers focusing on creating a miniature version of adults clothing to meet the demanding requirements of todays children. Individual customers make the buyers in online formats, while manufacturers and wholesalers make the suppliers. Online retailers buy from both manufacturers and wholesalers. Increasing number of participants, and lower switching costs in the online retail for kidswear is making the competition tough.
Online retail market for kidswear is currently at a nascent stage. But with the growth of internet, and mobile commerce, online kidswear market is likely to grow multifold in the years to come. With kidswear being considered as a part of the lifestyle segment and a strong emphasis being placed on brands, this segment proves to be a potential business. Retailers having realized that selling to 'small customers' is not an easy task have come up with alluring promotional activities to popularize their apparels.
References:
1) Business-standard.com
2) Indiaretailing.com
Image Courtesy:


1) Aimeelaine.com