Here, we carry out different trials with the Birla Cellulose fibres & their blends. One of our recent developments covers Digital printing of regenerated cellulose. Here, it is to be noted that woven fabrics are easy to digital print, and are popular commercially, too. After several trials, we have perfected the digital printing of the 100 % Viscose knit fabric. This article is the final outcome of the same.
Textile printing can be best described as the art and science of decorating a fabric with a colorful pattern or design. Over fifty percent of the world's printed fabric is produced in the Asia, compared to approximately twenty percent in the US and Europe. The majority of all textiles are printed using rotary screen print machines. While this technology offers high speed and low product cost, there are many drawbacks. The trend in textile printing is for rapidly decreasing order size, forcing textile companies to print shorter runs. Rotary screen technology offers obvious benefits for long runs, but does not allow economical short run production. As the price per yard continues to decrease, traditional manufacturers are forced to respond to the changing world of textile printing.
Indeed, the world of textile printing is rapidly changing. Customers are demanding a greater variety of color and design. Responding to this demand is a necessity in today's marketplace. Printers are forced to find new and innovative ways to provide printed samples while minimizing cost and waste. Digital printing technology allows customers to streamline the entire design, sampling, and production process.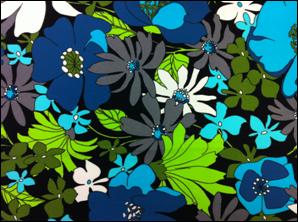 So how does digital printing help to eliminate the problems associated with traditional textile printing? One of the biggest benefits digital printing provides is the reduction of downtime. Digital printers do not require lengthy setup /cleanup time between patterns and can theoretically print 24 hours a day, 7 days a week, and 365 days per year. In addition to increased efficiency, digital printing also provides the elimination of screen cost in sampling and short run production. Printing without screens eliminates the registration problems and most importantly - allows for mass customization. Designers can make pattern and color changes immediately and print a sample before engraving screens for the final run. On a digital production machine, the printer can produce as little as one repeat of several patterns using multiple color ways, all in a few minutes.
When talking about textile value addition, it is essential to include Viscose fibre based products. Viscose is the 1st generation regenerated cellulose fiber. Special features of Viscose fiber for processor are high moisture regain of 13% (cotton - 7% and Polyester 0.4%) and increased dye uptake. These features enable unique comfort, cooler feel, brighter colours and brilliant shades of the final processed fabric. It is an art to dye and print viscose. Moreover, when processing 100% Viscose knits, extra care must be taken in order to achieve the USP of the Viscose fibre in the end product. Some vital properties of Birla viscose fibre is listed below.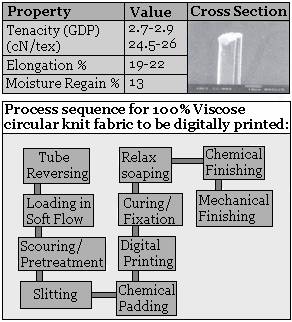 Tube reversing:
Tubular knits are always reversed before pretreatment / dyeing. This is of vital importance in regenerated staple fibre-fabric in order to achieve good pilling rating. Moreover, reversing is of utmost importance, if the goods are to be printed.



Loading :

The fabric in the reversed tubular form should be processed in soft flow/air flow jets. Before the actual loading, the machine vessel is lubricated with suitable lubricant and a wetting agent for 5 mins at 50C. After that, the fabric is loaded and run in the same liquor for further 10mins.


Scouring/Pretreatment:
The processing of the fabric during pretreatment is also an important factor in producing a superior finished printed fabric. For Viscose goods light pretreatment is recommended, a combination of Hydrogen Peroxide, Soda ash and Soap can serve the purpose. After pretreatment, Core alkali and Whiteness index are the main check points. i.e. pH of the fabric after process must neutral to slightly acidic.


Slitting:
Slitting is carried out in a usual manner.


Chemical padding:
Chemical padding can be carried out on Stenter by padding the homogenized paste and drying it at temperature not more than 120C. For the best results, the paste should be stored for at least 24 hours before padding. Padding must be uniform throughout the length and the width of the fabric. The ratio of alkali and the hygroscopic agent in the paste must be maintained for the deeper and brighter prints. Drying temperature must not exceed 120"C in order to avoid browning and crack formation on the fabric surface. Since, this is the most important process, special attention must be given to the preparation of the paste. The recipe containing the chemical padding ingredients is given below.
Digital printing:

Chemical padded 100% Viscose knit fabric is digitally printed as per normal woven route. Fiber Reactive Inks Cotton, linen, silk, rayon and many other plant-derived fibers including jute and hemp can all be printed with fiber-reactive inks. The colors are very bright and the light fastness is appropriate for apparel and home furnishings. Because the dye in the ink chemically reacts with the fiber, it actually becomes part of the fiber, giving excellent wash fastness. Fiber reactive inks require the use of fabric that is pretreated for printing with them. Reactive H type ink is popular in the industry for good fastness and colour brilliancy.



Curing/Fixation:

For curing, temperature and duration is of paramount importance. The best results are achieved at 102C for 12mins (or 2 minutes more than usual cotton curing) in loop ager. Since, the regenerated cellulose fibre/fabric (Viscose, modal & excel) pick up more dye/ink than cotton, it requires more time for development/fixation.



Soaping:

Soaping of the delicate Viscose knits require very good handling with no or little tension to the fabric. For this, elliptical winches in the washing range solve the purpose. Because of the amount of unfixed color that is removed in the washing process, it's generally recommend that reactive prints be washed in two or more cycles, starting with a cold rinse and followed by progressively hotter washes. By doing the washing in steps, a limited amount of unfixed color is removed in each cycle, thus reducing the chance of "back-staining". For the best results, soaping should be performed in continuous relax soapers. In this type of machines, the fabric is run at 6-8 meters per minute speed through chambers with a preset temperature of 90C.



Chemical finishing:

As the Viscose staple knit fabrics have inherent softness, calm & soothing properties; it require less dosage of the softener. Moreover, to attend good pilling and shrinkage properties, resin finishing along with good catalytic system can be performed. By adding OBA in finish paste, we can enhance the whiteness of the white ground.



Mechanical finishing:

For the mechanical finish the fabric is given a run through compactor at belt pressure 2 kg belt pressure and machine speed of 13mts/min.
Sr

Process & machines

Recipe/ Parameters

Check points

Recommendations

1

Scouring/

Pretreatment in Soft flow

(soft flow machine)

Lubricant - 0.7gpl

1. Whiteness

2. Core alkali

3. Bursting strength

4. Absorbency

1. Loading of the fabric must be with a suitable lubricant.

2. Add an Optical brightening agent if super white fabric is required.

3. MLR should be kept higher than for cotton.

4. Addition of wetting agent is recommended.

5. Loading must be in warm water.

6. Machine loading should not exceed 70%.

7. Do not keep fabric in wet condition for long time as it reduces strength and chances of permanent crease formation.

8. In jet process, keep the distance between reel and liquor as minimum as possible (keeping required liquor ratio)

Soda ash- 2gpl

Hydrogen Peroxide 1gpl

Stabilizer- 0.1gpl

Sequester - 0.3gpl

Wetting agent - 0.5gpl

Antifoaming agent - 0.25gpl

Temp- 95C

Time - 60min

2

Chemical padding

(Stenter)

Sodium Alginate (5%) - 30%

1. Viscosity of the paste

2. Uniformity of the

padding

3. Absorbency

1. Paste must be homogeneous.

2. Nip pressure must be uniform.

3. Drying temperature should not exceed

120C.

4. Use of Anti-migrants help in avoiding "colour

bleeding"

Soda ash-4%

Urea -16%

Resist Salt - 1.5%

Sodium Bicarbonate - 1%

Wetting agent - 1%

4

Fixation

(Loop ager)

Time -12 min




1. For fixation of the print on Viscose knits 2 seconds more is given.

Temp -102C

5

Relax Soaping

(Continuous type)

Speed - 6 mts/min

Temp - 95C

1. Fastness properties

1. For open soapers, usage of elliptical winch is suggested.

2. Temperature must not exceed boil.
Future of Digital printing
Digital technology is the fastest growing method of printing textiles, according to a report in the latest issue of Textile Outlook International. In last decade, digitally printed textile output rose by 300% to 70m square meters.


Authors of the article would like to acknowledge the trial support given by M/s. Alok Industries, Vapi and M/s. Swastik Poly prints, Surat.
Originally published in The Textile Review, April, 2012