India set to ban import of used plant and machinery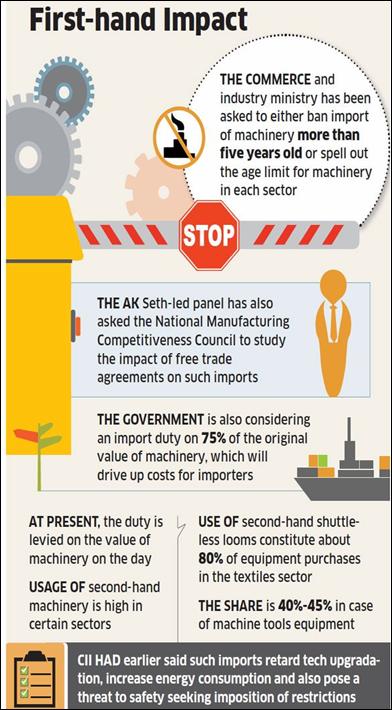 The government will soon restrict import of used plant and machinery, a move aimed at safeguarding the productivity and competitiveness of Indian manufacturers.
A panel headed by cabinet secretary AK Seth has decided to ban import of machinery more than five years old. "The big worry is that such imports would impact overall productivity and erode competitiveness of the manufacturing sector," said a government official privy to the development.
The domestic capital goods industry says imports are partly responsible for the drop in output; a contention supported by government data that showed production of capital goods contracted 4.1% in 2011-12.
Data on Tuesday showed the sector contracted by as much as 16% in April. The government is also considering an import duty on 75% of the original value of machinery, which will drive up costs for importers. At present, the duty is levied on the value of machinery on the day.
The commerce and industry ministry, which in April withdrew a facility that allowed domestic firms companies to issue equity to overseas firms against import of second-hand goods, is now expected to ban such imports under subsidy schemes such as the Textile Up-gradation Fund and the Credit-Linked Capital Subsidy Scheme.
The ministry has been asked to either ban import of machinery more than five years old or spell out the age limit for machinery in each sector.
The usage of second-hand machinery is high in certain sectors. For instance, industry estimates show that use of second-hand shuttleless looms constitute about 80% of equipment purchases in the textiles sector.
While the share is 40%-45% in the case of machine tools equipment, it is a high of about 80% for construction equipments such as cranes.
Addressing these concerns, industry chamber CII had written to the government earlier saying that second-hand machinery stifled domestic growth and led to unemployment. The CII said such imports retard technological up-gradation, increase energy consumption and also pose a threat to safety seeking imposition of restrictions.
The AK Seth-led panel, which included secretaries from key stakeholder ministries such as finance, commerce, textiles, power and heavy industries, has also asked the National Manufacturing Competitiveness Council to study the impact of free trade agreements on such imports.
This article was originally published in the Economic Times dated 14th June, 2012, written by Deepshikha Sikarwar, associated with the Economic Times Bureau, New Delhi.