India set to ban import of used plant and machinery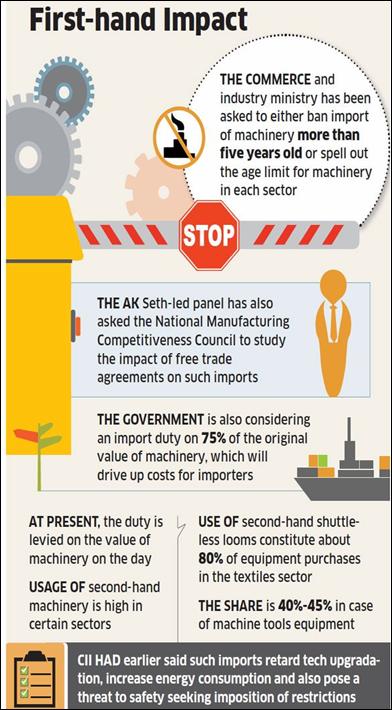 The government will soon restrict import of used plant and machinery, a move aimed at safeguarding the productivity and competitiveness of Indian manufacturers.
A panel headed by cabinet secretary AK Seth has decided to ban import of machinery more than five years old. "The big worry is that such imports would impact overall productivity and erode competitiveness of the manufacturing sector," said a government official privy to the development.
The domestic capital goods industry says imports are partly responsible for the drop in output; a contention supported by government data that showed production of capital goods contracted 4.1% in 2011-12.
Data on Tuesday showed the sector contracted by as much as 16% in April. The government is also considering an import duty on 75% of the original value of machinery, which will drive up costs for importers. At present, the duty is levied on the value of machinery on the day.
The commerce and industry ministry, which in April withdrew a facility that allowed domestic firms companies to issue equity to overseas firms against import of second-hand goods, is now expected to ban such imports under subsidy schemes such as the Textile Up-gradation Fund and the Credit-Linked Capital Subsidy Scheme.