FDI in single-brand retail: Govt likely to relax local sourcing and brand ownership norms
The government is likely to relax local sourcing and brand ownership norms as part of a comprehensive review of the FDI policy for single-brand retail to address concerns of foreign companies, even as a senior government official ruled out the possibility of an IKEA-specific package.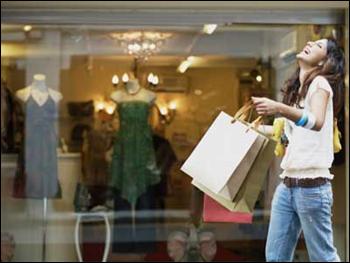 The Department of Industrial Policy and Promotion (DIPP) official, who did not wished to be named, said the local sourcing norms could be modified with the 30% requirement applying to costs and not to sales, as currently stipulated. Retailers are likely to be allowed to meet these norms over a period of time and not from the first day of operations.

Moreover, the condition that retailers can buy only from vendors whose investment in plant and machinery is less than $1 million, in order to meet this sourcing requirement, will also be relaxed.
If the sourcing norms are applied to manufacturing or landed costs, instead of sales as specified in the policy announced earlier this year, single-brand luxury companies, which have little scope to source locally, will get significant relief. Household goods retailers, on the other hand, will get a breather if they are given a timeline to fulfil their sourcing obligations.
The official also said a change in brand ownership norms was in the offing. The rule that investing companies must own the brand has resulted in around half-a-dozen proposals of big and small single-brand retailers being put on hold by the government.
Most global retailers and luxury companies have set up trusts and companies that own the brands while investments in setting up stores as well as other expenses are undertaken by a second company, a business structure that is not compliant with the government's current policy.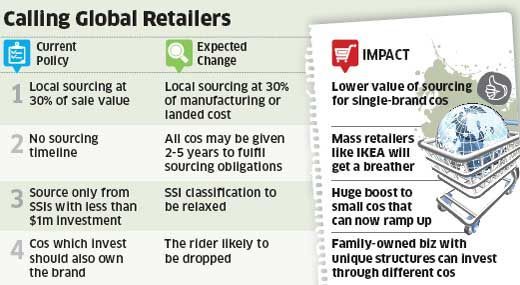 "We have sought legal opinion on this. If many companies operate around the world in a certain way, we cannot stop them from doing so in India," said the official.
These amendments are likely to be incorporated in a fresh FDI policy for the single-brand retail sector that would be unveiled after the presidential polls later this month. This new policy will be cleared by the cabinet. DIPP has already started consultations with all ministries involved in the decision-making process, including the ministry of small and medium enterprises (MSME) and finance ministry.
But the demand of IKEA, the world's largest home furnishing retailer, that it be given 10 years to comply with the 30% sourcing requirement is unlikely to be accepted.
Govt Willing To Give a Generous Timeline
The government has already written to the Swedish company saying the 10-year period is too long, and the DIPP official said while the government was willing to give a generous timeline for companies to comply with this requirement, the time demanded by IKEA appeared excessive.
"The policy will be generic and benefit every company. The government cannot announce a policy specific to any company," the official said when asked if the local sourcing rules and brand ownership rules were being changed to accommodate IKEA, which proposes to invest Rs 10,500 crore in India. "We have got several representations over the last couple of months and have discussed this with various stakeholders. We are looking at all these issues. Some of their concerns are genuine and we will address them. But nothing has been decided so far," he added.
The official said the government is not amenable to the idea of doing away with the mandatory local sourcing norms for high-end products and luxury goods where local sourcing is difficult. "We are working on a policy with a generic clause that covers all companies and sectors," he added.
The MSME ministry has been adamant about not diluting the 30% sourcing clause for retailers. FDI in retail, which many feel is likely to spur a sluggish economy and help the Manmohan Singh-government regain popularity, especially among urban voters, has remained a controversial matter for a decade. The government opened up the sector last year for multi-brand retailers, but hastily suspended the decision after a lot of political opposition.
Fifty-one per cent foreign ownership was allowed in single-brand retail in 2006. This was increased to 100% earlier this year, but the government imposed stringent conditions like ownership of brands and mandatory local sourcing from small-scale industries, making it difficult for companies to invest in India.
In the case of IKEA, for instance, the brand is owned by a trust but it is proposed that the investment will be made by another company. In the case of British shoe brand Pavers, there are two companies that have a joint venture. While one of the companies is the brand owner, both the companies plan to invest through the joint venture.
Spanish retail major Inditex owns the Massimo Dutti brand, but the proposal for opening Massimo Dutti stores in India was made by Zara Holdings, a wholly owned subsidiary of the Spanish company.
A majority of the companies in the single brand and luxury segment have structures similar to IKEA, Pavers and Massimo Dutti for various reasons. "The biggest asset for these companies is the brand and it is usual practice for them to not place the ownership of the brand in the downstream or investing entities. This also helps them to ringfence and not expose the brand-owning company from issues that may arise in regular or local business," said Aparna Mittal, managing associate at law firm Luthra & Luthra.
Most companies also structure their investments with a view to be more efficient. "Companies need to have the flexibility to explore tax and regulatory efficiencies," she added.
In its review of the policy on FDI in single-brand retail earlier this year, the government stipulated that 'mandatory sourcing of at least 30% of the value of products sold would have to be done from Indian small industries/village and cottage industries, artisans and craftsmen', when foreign investment in a venture exceeded 51%.
The retail industry, especially companies in the luxury segment, has been concerned about this clause. "There is practically nothing that luxury brands can source from India. If they do it, they will end up diluting their own DNA. Also, there are very few things, including embroidery that India can offer. Even if local sourcing is done, India's contribution will be limited only to handicrafts," says Abhay Gupta, chief executive officer of luxury service provider Luxury Connect.
Luxury brands have said they see this clause as a barrier and would prefer to continue with 51% in the country. "These brands can never comply with the 30% local sourcing clause and in my view it should totally be done away with," says Dipak Agarwal, chief executive officer of DLF Brands, which has a joint venture with Italian luxury brand Salvatore Ferragamo.
For brands, the dilemma is if they find small companies to partner in India to source products locally, giving business to them would mean they would soon breach the definition of small companies according to the Indian government. Scaling up business would require more investments in plant and machinery, leading to the small suppliers breaching the investment ceiling specified for SSIs in the policy.

Additional reporting by Shruti Chaudhary
This article was originally published in the economic Times dated 9th July, 2012, written by Ravi Teja Sharma and Vijaya Rathore, associated with the Economic Times Bureau, New Delhi.