Imagine a fabric that is 15 meters long, but weighs only 10gms and can just pass through an ordinary finger ring. This is the handspun, muslin wonder popularly known as 'Khadi'.
Khadi also known as Khaddar, is a traditional fabric of India, and is more associated with a feeling of patriotism. Currently, the fabric is gaining global spotlight. Khadi is a fabric that brings a feeling of peace, nationalism, and simplicity among Indians. Closely associated with Mahatma Gandhi and freedom revolt, this fabric is also a representation of Indian handloom industry. An exclusive outfit associated with the Swadeshi revolutionists, khadi fabrics underwent a fashion transformation during the later years.
Khadi fabrics are generally hand spun and hand woven. But they vary from handloom fabrics in a way that it's completely handmade, while handloom fabrics are processed at mills. Yarns of khadi fabric are spun with a spinning wheel known as the charkha. Khadhi fabrics are mainly woven on handloom from woolen yarn, cotton, and silk and are hand spun. Initially, the coarse and rough fabric was primarily not preferred by people who preferred luxurious and soft fabrics. But with the current wake of environmentally friendly lifestyle, even increased number of workers involved in the spinning process is not enough to satisfy the demand.
Contemporary interpretation: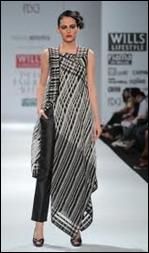 With more technological advancements in fabric making and an increasing demand for consumers both India and abroad, khadi fabrics have undergone changes in many aspects. They are blended with other fabrics such as silk, and polyester to make matka khadi, poly khadi, tussar silk and many other varieties. Fashion has also brought about a drastic change in the shades of the fabric.
Fashion promotes the traditional khadi fabrics in a way like never before. Initially available in a single almond hue, with the magical swap of fashion, currently khadi fabrics are available in 30 attractive hues. Khadi fabrics have also gained global fame with the courtesy of the fashion industry. The fabric which induced patriotism among the Indians, have also grabbed the attention of fashion designers; worldwide. Kindling up their creativity, they are now creating unique and extraordinary designs, only for khadi fabrics.
Khadi fabrics blend well with the skin after two washes. It is breathable, and has a self texture. Much equaling in virtues with Egyptian cotton and linen, khadhi can be blended with other fabrics such as denim, wool, silk and polyester giving good results. Designer Rohit Bal was mainly responsible for bringing the fabric into fashion spotlight. Other renowned designers like Deepika Govind, Anju Modi, Sangita Singh Kathwada, and Wendell Rodricks has also used khadi for design their collections.
Export of Khadi apparels: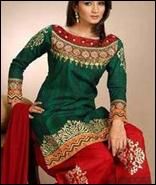 When India entered the global market in apparel trade, it opened new windows, and a global recognition for khadi fabrics. Expiry of the multi-fibre agreement further enhanced export of khadi apparels. Of the total textile production in India, khadi fabrics constitute approximately 0.22%.
Khadi fabrics and apparel see good sales particularly during the month of October. Retailers come up with special discounts to boost sales during this period. Depending on the style and pattern, khadi apparels are available in a range of prices from `400-2,500.
To testify the purity and genuineness of khadi fabric and apparels plans are chalked to bring 'khadi mark'. This will guarantee the quality and purity of the product, not only in the domestic, but also in the global markets. The 12th Five Year Plan proposes to encourage the production of khadi fabrics, through industrial clusters. The proposed outlay is `1000 crores. Micro enterprises will be set up in the country creating employment opportunities for around 32 lakh workers in the rural areas.
Today, new generation weavers are slowly shifting to other trades which offer lucrative income. More Government patronage is required to preserve and enhance this traditional craft. Khadi fabrics are a symbol of India's cultural heritage, and have also inspired many people at the global level. This traditional fabric is now turning into an epoch of commercialization.
References:

Harkhadi.nic.in

Fashionunited.in
Image Courtesy:
Theweekendleader.com