Men are waking up to the beauty of being well dressed and stylish. Be it a desire to look dashing like Don Draper of 'Mad Men' or a wish to look sporty, men are ready to spend a hefty sum to enhance their look and style. This attitude of men and their increasing fancy is boosting the global menswear market.
Global market for menswear grew by 2.9% and reached $377,765.2 million during 2011. Analysts predict further 13.9% drastic growth in the segment and forecast it to reach $430,415.2 million by 2016. US comprise 35.4% of the total menswear market. Growing with a much faster pace than womenswear, industry analysts predict that in the coming years, the shift will be driven by China. The country's sales are increasing by 20 - 25% for a year, and menswear segment comprise of approximately three quarters of the market. China's consumers are likely to make up 70% of the global luxury market. Recession cooling down apparel sales in US and EU markets are creating opportunities in the Chinese market.
Brands for the Martians: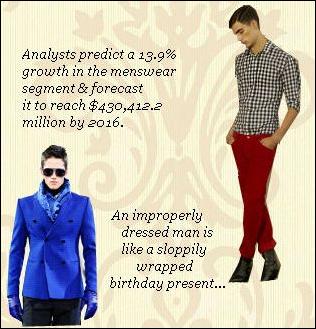 Menswear is available in a wide range of collections including; casual shirts, polos, t-shirts, jeans, knitwear and jackets are available in a wide range of styles and sizes. Brands such as Hugo Boss, Hackett, Ted Baker, Barbour, Henri Lloyd, Paul Smith, Armani Jeans, Ralph Lauren and Lyle & Scott are notable for menswear. Brands Hugo Boss, Burberry, Giorgio Armani, and Ermenegildo Zegna makes almost 50% of its €1 billion revenue from the Asian countries. German brand Hugo Boss generates a sizable amount of its revenue through its menswear collections. By 2015, the brand is targeting sales revenue of €3 billion. Saks Fifth Avenue has increased its collection of menswear, and is further chalking plans to become one of the biggest menswear brands in the near future.