India was a fore - runner in art of natural dyeing, an art perfected during the era of the great Epics. It was known as a leading source of the earliest natural dyes and still continues to be one of the imminent producers of the same and enjoys its place as a land with a rich cultural heritage of traditional crafts.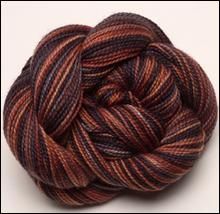 One such craft perfected in India is the fabric tie - dye technique known as Bandhani and Leheriya. Bandhani as it is popularly known in India comes from the Hindi word which means tying to give a dotted pattern and Leheriya means tying of fabric diagonally to produce a stripe pattern and is mostly done in the Western states of Rajasthan and Gujarat.
Traditionally tie and dye was done employing natural dyes. But with the advent of synthetic dyes, tie and dye with natural dyes were found to be losing their grounds. However, with the present trend being "back to nature", natural dyes are now in vogue. Persian or English walnut (Juglone Regia) is native to the Himalayan belt and the Kumaon hills of Uttaranchal - a northern state of India. Dye from walnut tree is an area that has not been explored very well though it carries a very strong potential with it for being a significant natural coloring agent.
This article was originally published in the 12th Benniel Symposium, Textile Society of America, 2010