Black has been dominating the fashion segment for a long time. With the wake of eco friendly; sustainable lifestyle, ideally mentioned as 'Green Fashion' this trend is now empowering the black trend. What are the current trends, and where is the industry heading in the future? Article features excerpts of industry players.
"In our every deliberation, we must consider the impact of our decisions on the next seven generations." says The Great Law of The Iroquois Confederacy. Rather than thinking about our own survival each generation is also responsible to ensure the survival of the generations to come. The fiery trial of our attitude towards our environment will light honor or dishonor to our planet, and our generations to come. When the activities of human beings take more resources from the environment than it can be reproduced, or if they add more waste, it affects the sustainability of the planet.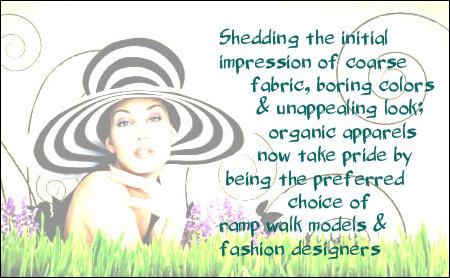 Textile industries are a strand of the global web. What they do to the web is what they do to themselves. Textile industry is the most ecologically harmful industry in the globe. Hazardous practices followed during the production process such as bleaching, dyeing, etc releases toxins that swell into our ecosystem. When a part of the eco system is contaminated, its impact is felt by all. Hence being sustainable is essential for the health of our environment, and also for the well being of our future generations.
As Mahatma Gandhi said, one must be the change he wishes to see in the world. Consumers are getting increasingly aware of the universal issues created by global warming. Medias have created an awareness regarding the environmental problems affecting our planet. Emotionally influenced by environmental concerns, consumers demand ethical practices be followed in apparel making. This trend is picking up speed. Apparels made from organic fibres, organic cotton, and by adopting manufacturing process that does not harm the environment, or living beings are considered important. Along with this, they also prefer their eco-friendly garments to be garnished with some fashion elements.
Sustainability gets the fashion spotlight: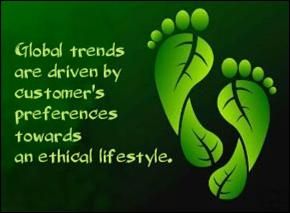 The concept of sustainability is going through a magical transformation. Shedding its initial impression of coarse fabric, boring colors, and unappealing look, it is now taking pride by being the preferred choice of ramp walk models, and fashion designers. Global trends are driven by customer's preferences towards an ethical lifestyle. A report on Ethical Consumerism by the Co-operative Bank states that sales of ethical clothing during the period 2007-2009 rose to 275 million USD, a period when recession was at its peak.
Fashion designers from all over the world are showcase their collections made from natural fibres such as hemp, bamboo etc. Raw materials for their apparels are made from organic substances, re-used materials, recycled fabrics, and apparels made without involving harmful chemicals, or bleaches. These garments are also made in save working conditions which does not damage the health of the workers, and are also ensured that they get fair wages. This spreads charisma to the emerging green division of the fashion segment.
Sustainability: everlasting solution or just a passing trend?
Though trends of sustainability are seen everywhere, what are its chances with the main stream world audience? Mr. Rob Drake-Knight, Co-Founder of the renowned brand Rapanui positively asserts it would stay in the long run. Speaking with Fibre2Fashion's Fashion Analyst, he quotes, "Absolutely, if the product is cool first, people make the mistake of thinking that eco fashion = itchy hemp socks or scratchy jumpers. Rapanui is cool first and so people buy the product and the sustainability comes with it. We just do things the 'right' way, we're honest about everything and our customers find that refreshing, people are tired of 'green' before sustainability has even become mainstream, they have had it pushed upon them for a long time. Brands have to realize that honesty is the best policy. The idea of Rapanui is to inspire people to make wider lifestyle choices in going green."
Sustainable fashion is quite appreciable, but consumers would like to keep clothing budget within control. When asked if price points would be an issue because of organically grown fibers, he says, "I really don't think that price is an issue, our products retail for around 24.95 pretty standard for a brand in the UK; the organic fibres / wind power and ethical labor shouldnt cost more, they should just be how ALL our clothing is made."
Mr. Kunal Balar, International Marketing Manager, Herbalfab states that though not directly involved with designing, they act as one stop shop for Organic cotton and Eco friendly based fabrics. He quotes, that they mainly face three challenges:

"Lack of awareness among the customers about cheap chemical fabrics available in the market.

People's mentality of counting organic as expensive, whereas on the other hand they can spend more than that on branded and conventional clothing.

Many manufacturers are not into the making of organic fabrics, which makes it a monopoly. "
Future trends: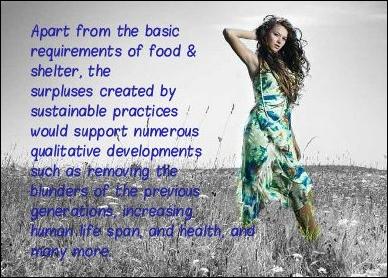 Possible visions of a sustainable future are numerous, varying in terms of technological emphasis, material consumption, role of trade, size of population and many more. Both quantitative and qualitative aspects would gain priority in the future. Quantitative aspects involves in increasing sales volume, while qualitative aspects focus on enhancing the functioning. Apart from the basic requirements of food and shelter, the surpluses created by sustainable practices would support numerous qualitative developments such as removing the blunders of the previous generations, increasing human life span, and health, and many more.
Corporate social responsibility has become a critical consideration for the apparel industry. Corporate responsibility is not an add-on from outside, but should be built with the company itself. Many leading companies in US, and EU have adopted policies, and programs with an intention to initiate their corporate social responsibility, by adopting sustainable manufacturing processes.
Sandblasting techniques used to give a worn look to denim fabrics, has health related issues, wherein workers face serious health hazards resulting from the exposure to silica, an element present in sand. Levi Strauss, along with H&M, announced plans on bringing a global ban on sandblasting on all their product lines. A few more have made deals with their subcontractors in Egypt, Pakistan, and Syria prohibiting the practice. Many brands are joining the band wagon by adopting sustainable practices. The core of mainstream sustainability will become the idea of three main dimensions; social, environmental, and economic sustainability. Driving a global policy change, more countries will have Government policies imposed for protecting their environment.
Talking about the future of sustainable fashion, Rapanui's Co-Founder states, "I think we'll see more companies doing similar things to us here at Rapanui, more traceability, clearer labeling and an honest approach to marketing of their products. In terms of products I think well see a mixture of products from the biosphere eco fabrics like organic cotton, eucalyptus tencel and technical recycled PET products. "
Mr. Kunal Balar, tips the customers regarding the purchase of clothing. He states, "The foremost thing is to understand the manufacturer (trust is most important).The customer need to ask for Organic certification (GOTS, oeko Tex, OE 100). They should further try finding the root source of the product, from where is has come from."
Government subsidies must be offered to companies involved in making sustainable clothing. Fashion designers must make focus on making their designs timeless, so that it remains a 'wardrobe staple', for many years. Manufacturers should focus on making outfits that are stylish, along with a reasonable price tag. These apparels should be available in many store racks, and throughout the seasons, so as to be available at the choice of the shopper at all times.
As the broad goals of sustainable future become clearer, quantitative as well as qualitative growth becomes possible, contributing to human happiness and well being.
References:
1. Helium.com
2. Sustainablescale.org