The United States-European Union High Level Working Group on Jobs and Growth has released an interim report endorsing the beginning of negotiations for a potentially broad trade agreement. The three-page document describes general goals and what policy measures could be agreed upon to reach those goals. It outlines seven trade-related areas on which the United States and the European Union could "envision pursuing a comprehensive agreement."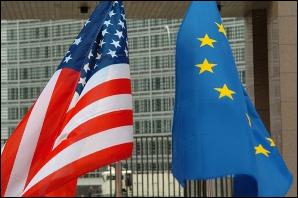 The High Level Working Group was established after a U.S.-EU summit meeting on 28 November 2011. Its co-chairs are U.S. Trade Representative Ron Kirk and EU Trade Commissioner Karel De Gucht. The stated objective of the group is to "identify policies and measures to increase trade and investment to support mutually beneficial job creation, economic growth and competitiveness" in both the United States and the European Union. In the report, the Group concludes that the best way to achieve these objectives is to negotiate a comprehensive trade agreement. Both parties have expressed a desire to complete the negotiations quickly, with De Gucht hoping to wrap up the talks within 18 months.

Specifically, the report details seven categories that a potential agreement would include: tariffs, non-tariff barriers and regulatory issues, services, investment, procurement, intellectual property rights and rules.

The first stated objective of a potential agreement would be to eliminate all tariffs on bi-lateral trade. The report notes that the goal would be for quick phase-outs of all duties except those on goods from particularly sensitive sectors. The language of the report leaves some flexibility for treatment of the most sensitive products.

The Working Group is careful to mention the respect that each party has for the other's regulatory regime. That said, the report emphasises a desire to streamline regulation in order to create an "integrated transatlantic marketplace." Recognising the delicate nature of potential negotiations, the report details only a few specific areas of potential agreement. These include a chapter on sanitary and phytosanitary standards, a chapter on technical barriers to trade, and provisions for promoting future regulatory compatibility. The Working Group has also asked stakeholders to present by the end of the year concrete examples of regulatory irregularities that impede trade in order to properly address those issues during the regulatory process.