Introduction:
Indian Footwear Industry is one of the most vital industry, which rather than machinery, also depends on craftsmanship and manpower. Footwear Export is among top ten Export products of the country. China is the largest manufacturer of Footwear, but we are ahead of it in good craftsmanship. Being a second Largest Footwear manufacturer of the world, Indian Footwear Industry is divided in two sectors, large & small scale.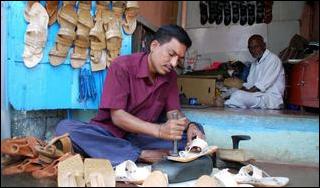 Personnel management, which includes methods of recruitment, selection, training, terms of employment, methods and standards of remuneration, working condition, maintenance and effective use of facilities, is important for both large and small scale industry. In Big companies, good relationship is maintained through various welfare schemes and activities, but in small scale sector, adequate attention has not been paid to this aspect. In Southern part of India, small scale sector is systematic. There are some regions in India, where there is a scope of improvement. For the proper development in these regions, due recognition to the importance of the human factor has to be given. It is a fact that this has not been given sufficient attention in the past. Till now we have not achieved benchmark, when we talk about personnel management, safety management, cleanliness and technical education.
As per the data maintained by Council of Leather Exports, Indian Footwear Industry has share of 13% in global footwear production of 16 million pairs. India produces 2065 million pairs of different categories of footwear. But the craftsmen, who are devoting whole life in footwear industry are not having safe working condition. They are not having regular jobs. Maximum workers are working in contracts. The owners have no social responsibility for them. If any worker is affected by any injury, he cannot claim for compensation, because there is a lack of records & attendance. Workers are forced to work in a scorching heating condition. They have no facilities like Provident Funds, Medical benefits etc. They work on holidays and night hours. They are working in worse conditions with maximum pressure and minimum wages. Their so called "Maalik" cries with the continuous dialogue of "Low fund".
It is essential to study the effect of management-staff relations on the development of this sector. The footwear manufacturer must understand that it is a part of the management function, which is primarily concerned with human relationship within an organization. The objective is to maintain a relationship with each individual of its concern so that every employee contributes his service with great zeal and effective work. This is for effective relationship between employers and employees. The importance this relationship has not so far been realized fully by the footwear manufacturer and this is must for the advancement of this sector.
Effect of Human relations: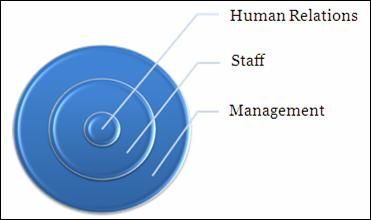 Human relation in a factory plays a crucial role which contributes to high productivity and is most essential in order to lay a firm foundation of good creative atmosphere within an organization. It should be realized that in absence of essential facilities provided to the workers, it is difficult to get good work from them. For better results, it is essential that a joint consultation committee be formed in each factory to hear grievances and deal effectively with them. The formation of such committee would help the management to appreciate some of the difficulties confronting the workers and likewise the workers are made aware of managements problems. This mutual understanding will thus reduce the chances of distrust between management and employees.
Cleanliness in the factory:
Whether we process through ISO (International Organization for standardization) or SA (Social accountability), the motive is clean and systematic work. The working conditions in most of the small scale footwear units are far below the requirement. A high standard of cleanliness should be provided in the factories and the workers should not be compelled to work under sub-standard conditions. Good working conditions ultimately result in the improvement of the productivity, quality of the product and overall development of the industry.
Safety Measures:
There had been several accidents occurred due to fire explosions in the factories of Northern India, which are enough to tell the truth. I still remember the ten years back fire injury incident of Shree Ji Leathers Agra in 2002, when a large number of workers lost their life due to improper storage of adhesives & lack of emergency exit. Some fresh cases are observed in Kanpur & Delhi. To avoid these incidents in future, some regulations must be followed. There should be separate place for storing hazardous adhesives & inflammable chemicals. The workshop should be equipped with fire extinguishers. Each employee should be trained for fire drills. There should be emergency exit in the workshop. First Aid facility should be available near working area.
Initiative by Government: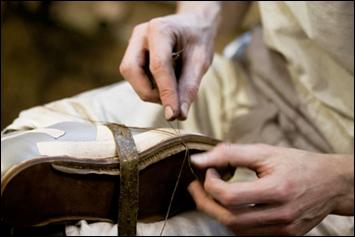 Government is developing small industries to extend work opportunities, raise incomes and standard of living and to bring about a more balanced and integrated economy. Industrialization will also change from simple crafts meeting elementary needs to small industries based on steadily improving techniques and designed to satisfy the needs of a more advanced character. Government is very strict against child labour, which was most common in small scale sector.
Technical Education:
Most of the workers engaged in the cottage and small scale footwear industry are illiterate and carry out their jobs on the lines they and their forefathers had been doing traditionally. For developing the industry, it is desirable that the workers should technically train.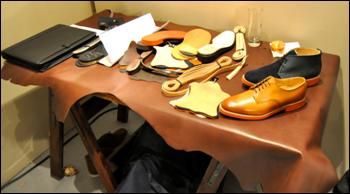 Footwear Design & Development Institute (Ministry of Commerce & Industries, Govt. of India) is the premier institute in India who has taken initiative for training workers under HRD mission. In FDDI, facilities are provided for advanced training in different processes techniques to the unskilled, semiskilled & skilled workers engaged in the manufacture of footwear to groom their skill on modern lines. FDDI is also giving consultancy through Industry up gradation program. The employers, in addition to this, can also arrange in collaboration with FDDI for online training program by experts of different field for improvement in the technical knowledge of their workers. The FDDI provides facilities for arranging technical film shows, on the spot technical guidance, offers advice on economical use of men and material to reduce production cost and also arranges open house discussions on various problems in addition to providing of number of other services for the betterment of the industry. Besides FDDI, there are other organizations like MSME etc. which are providing training to workers through various schemes of Government.
Conclusion:
The small scale footwear manufacturers should realize the necessity for promoting industrial welfare and take suitable implementations. They should know their responsibilities and should not work only for the sake of their personal profits. This measure would ultimately give sake of satisfaction to their staff as well as helping them to bring solidity within the industry. Otherwise we will lack good craftsman in Footwear Industry.
Image Courtesy:
article.wn.com

thenational.ae

7thmanmagazine.blogspot.com

thehindu.com