Once limited to just pumpkins, candies, and a very few basic costumes, today Halloween has transformed into one of the major holiday event in the US giving a major boost to its retail apparel sector.
Halloween is the second most commercially successful holiday in the US, next to Christmas. October 31st is fast approaching, and retailers are gearing up for Halloween sales. A CNN survey states that during 2011 an average household spent $21.05 on trick-or-treat candy, and people have spent more than $2.5 billion on Halloween apparels. On an average, an American consumer spends $66.28 on Halloween costumes. Current year is predicted by US retail industry to generate more sales than ever as economy is recovering, and people have started spending on elaborate decorations, and exotic costumes.
A retail bonanza: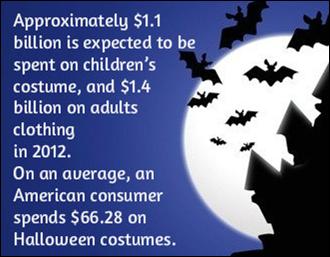 Almost 7 out of 10 Americans plan to celebrate Halloween. Forecasts of National Retail Federation state that Americans will spend $8 billion on Halloween this year and a huge portion of this money would be spent only on costumes. This is a 17.5% increase over the 2011 figures. Approximately $1.1 billion is expected to be spent on childrens costume, and $1.4 billion on adults clothing in 2012. An important element that boosts sales of Halloween costumes is the 'Con' event in which people dress up as their favorite fantasy heroes.
Customers have allotted big budgets and are prepared to spend more on store bought, ready-made apparels in place of handmade ones. Earlier during recession, consumers opted for do it yourself costumes, which are currently replaced by readymade apparels which save time, and more accurately represent the character they desire. Heraldtribune.com reports Phil Rist, Executive Vice President, BIGinsight saying, "There's certainly a pent-up demand for having some fun this year. Shoppers are planning to spend their hard-earned dollars on items that help them get into the Halloween spirit. "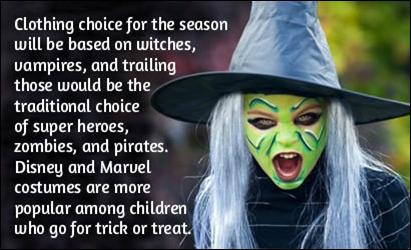 Clothing choice is one of the most essential parts of Halloween celebration. Clothing choice for the season will be based on witches, vampires, and trailing those would be the traditional choice of super heroes, zombies, and pirates. Popular television characters and public figures would also be imitated. Characters from the Avengers such as Captain America, Thor, Hawkeye, Batman, and Spiderman are also preferred. Retailers opt to enhance clothing sales by improving the quality of the fabric used to make Halloween costumes. Disney and Marvel costumes are more popular among children who go for trick or treat.
Social media plays a crucial role in increasing retail sales:
Generally, retailers use social media to enhance their sales. With much expectation on Halloween costume sales, social media is gaining more importance. A survey conducted by BIG insights confirm that major social media platforms are used to invite people ' s opinion in deciding which Halloween costume would be more preferred by people for the current year. Majority of the survey respondents expressed that they use Facebook to confirm their clothing choice with their friends. Much of the clothing sales during Halloween happen inspired by those using social media to share their ideas with one another. Online Halloween sales increased up to 15% in 2012.
Halloween costumes have become a growing part of retail success. What is yet to be seen is that whether the Halloween boom will be carried over with the same fervor to Christmas.
References:

Cnbc.com

Heraldtribune.com