Online retailers like Zovi, Myntra offer simulating 'Touch & Feel' comfort to consumers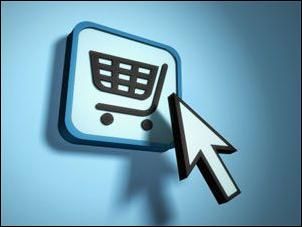 Recently, female employees at Ciber, a Bangalore-based IT consulting and outsourcing firm, were called into a slightly unusual session away from the line of duty a lingeriefitting workshop conducted by Zivame.com, a pure-play online retailer of bras, panties and thongs amongst other similar items. "They (women) are used to buying offline. So, one needs to talk to them in the language and environment they are comfortable with," explains Richa Kar, CEO and founder, Zivame. It not only spreads awareness about the brand, it also gives brand a face and credibility, she adds.
Like Zivame, a slew of pure-play online players are not only simulating offline buying experiences to provide touchand-feel comfort to consumers; they are also opening physical outlets to woo potential buyers and tackle negative perceptions about online shopping that are still rooted in the psyche of many Indian shoppers.
Consider Zovi an apparel retailer that sells in-house designed labels. The biggest challenge for Zovi is to differentiate itself from a dime-a-dozen me-too brands that have cluttered the online space over the last few months. So, what did it do? Simple: It rolled out a virtual trial room to enable its buyers to check out how select merchandise looked on them via an interactive webcam. The virtual trial room has worked well for Zovi, avers Monappa Nanlyanda, Zovi's marketing head. "There has been a jump of over 25% in conversion rates since we launched the virtual trial room," he says. To back up those efforts, the online retailer has rolled out a brand awareness campaign, including a TV commercial, and will soon display its range of merchandise at kiosks at malls and high-footfall sites. "Having an offline presence gives you credibility," says Nanlyanda. It also takes you closer to your customers who can now touch and feel the product, he adds.
Zovi also has in-house designed products, quite similar to the 'private labels' of modern retailers. Multi-brand online fashion retailer Myntra, which has been advertising on TV for some time, has now rolled out a 'style studio,' which is a virtual dressing room aimed at making online shopping more interactive. The style studio enables users to click their pictures using a web-camera, select a product they want to try and see how it looks on them. It also enables users to share their look with friends on Facebook and Twitter.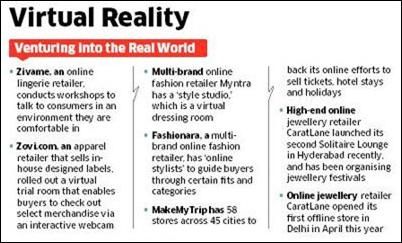 Myntra recently came up with a 'Try & Buy' concept in which consumers could shop for a product online, get it delivered at their home, try it out and then decide about buying it something that one does at mortar-and-brick outlets. The multi-brand retailer has seen a sharp jump in the number of visitors shopping on its portal since the launch of the try-and-buy scheme. "On an average, we are doing about 2.5 lakh transactions per month, and are on track to achieve our revenue target of Rs 500 crore by the end of this fiscal year," says Ashutosh Lawania, co-founder & head of sales, Myntra. Fashionara, a multibrand online fashion retailer, has 'online stylists,' much like shop-floor assistants, to guide buyers through certain fits and categories.
Away from fashion, travel portal MakeMyTrip has 58 stores across 45 cities to back its online efforts to sell tickets, hotel stays and holidays. And high-end online jewellery retailer CaratLane launched its second Solitaire Lounge in Hyderabad recently, and has been organizing jewellery festivals to exhibit its collections. For MakeMyTrip, 30% of its retail business comes from its franchisees' brick-and-mortar outlets. The travel portal uses offline outlets as a means to drive consumers to online. "Once customers transact through these offline channels there is a greater propensity to migrate to online research and transaction," says Manish Kalra, marketing head, MakeMyTrip.
Such moves, explain analysts of online retailing, aim at making potential shoppers more self-assured even as the line between online and offline retail gets blurred in the fledgling Indian ecommerce market. "Online retailers are not imitating their offline counterparts," says Akhilesh Tuteja, partner, KPMG, "but are only buying consumer confidence."
Online jewellery retailer CaratLane, which opened its first offline store in Delhi in April this year, feels an offline presence helps in building a stronger personal relationship with consumers by giving a human face to the brand. "Consumers trust what they see. The idea of having offline stores was to induce confidence among consumers," says Calvin John, vice-president, offline marketing, CaratLane.com. Offline not only accounts for 10-15 % of CaratLane's transactions, it also propels growth of the online piece of the pie.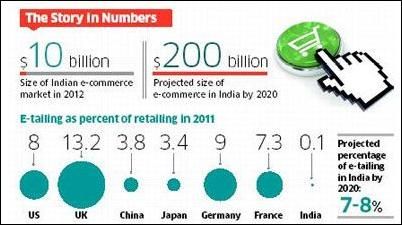 However, not all online players have opened shop offline. One of them is Times Internet, which is owned by the Times Group that publishes this newspaper, and has Indiatimes Shopping as its e-commerce portal. "Our experiential marketing programmes and consumer engagement initiatives are focused on social media and websites rather than offline," says Subhanker Sarker, COO, Indiatimes Shopping, "as we feel our core target group hangs out substantially in the virtual world."
Experts sound a word of caution on the trend of online retailers going offline. "Online and offline models are as different as chalk and cheese," says Tuteja of KPMG. One has to be very strong in one of the models, and the other can then compliment it, he says. "But even then, such a hybrid model makes sense in the long-run." Arvind Singhal, chairman of Technopak Advisors, says, "Take a deep breath and relax. Online retail is not a 100-metre dash but a marathon." They should not be in a tearing hurry to become first online billionaire of India, he warns.
This article was originally published in the Economic Times dated 14th November, 2012, written by Rajiv Singh, associated with the Economic Times Bureau, New Delhi.