Jewelry dates back to as long as 75,000 years ago. It was first thought to be used by Africans as a sign of power, worship, status, beauty, and even protection. They have also been considered by archaeologists and historians as an important tool in the determination of how cultures and societies all over the world have evolved.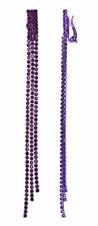 Most people today do not realize the importance of jewelry and simply note it as a status symbol and an excellent addition to one's everyday outfit. People's jewelry fashion preferences also greatly vary as there are people who favor the timeless and elegant pieces while some lean towards the more modern-looking jewelry pieces that are in tune with the current fashion.
Looking Back A Bit
Looking back, jewelry about 75,000 years ago composed of bones, stones, and even animal teeth. It was not until the Ancient Egyptians discovered that they can make beautiful pieces that can actually be a profession for some. The middle-class persons make the beautiful golden jewelries while the upper class people buy them and use them.
Cleopatra's time showed fashion jewelry to be mostly made up of gold and colorful stones. There are big chunky necklaces, bracelets, and sterling silver rings while some are even worn as headpieces. Designs were mostly birds, snakes and the phoenix.
In the 1400's, or the Middle Ages, jewelries can only be worn by noble people. Jewelry fashion somehow turned out to be religiously symbolic while still denoting social status. Jewelries then were only used during important occasions and designs mostly depict religion.
The 15th and 16th century eras were the times when there was modernization in jewelry fashion. It is still religious and symbolic but a twist is noticeable in the designs around this time. It is no surprise that jewelry experts and historians call this the "jewel age" because this was the time when jewelries became more accessible to the ordinary people. This was the first time in history that anyone, regardless of social status and religion, can actually wear jewelry.
Jewelry Fashion Today
Today, jewelries are so common that it is worn everyday by just about anyone even infants. It still somehow denotes a status symbol especially if adorned with expensive diamonds or precious gems but more than that, they are worn for beauty and complimenting the overall look of a person.
Fine jewelry is said to be held in a frozen or iced state. They definitely move at a slower rate than the fashion jewelries, which are becoming more popular because of the fact that they are cheaper and easier to produce.
However, for the upcoming year, expert jewelry designers predict that the trend will go towards more colors with big, bold, and personalized pieces.
Here are some forecasts for jewelry fashion for the year 2013: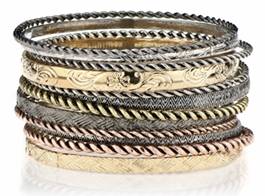 For earrings, the longer the more fashion worthy it will be.

Colors will consist mostly of bright neon colors namely turquoise and coral.

Vintage rose gold will continue making a comeback.

Unique and more eclectic styles will continue to take center stage with more focus on detail and textures.

For watches, the bigger it is the better looking it will be.

For necklaces, there will be a lot of layering with fine jewelry on top of fashion jewelry that might leave a lot of people confused.

For rings, it has always been big and bold for some time now and it will continue to be in the next months though people can expect more pop of color.

For bracelets, bangles will still be the talk of the town with more unexpected prints and details.
Jewelry fashion is something that has always been evolving just like the clothing industry. Some designs make a comeback while some are here to stay for the long run. Always make sure the selected jewelry is something that will bring out more confidence and beauty without totally overdoing it.
About the Author:
Candy Smith is a young fashionista who loves silver rings, and necklaces. Her years of fashion experience motivate her to share tips with fashion lovers in buying jewelry, metals, and diamonds.
Image Courtesy: