US retailers have yet to weigh up the full impact of Hurricane Sandy, which hit the US East coast earlier between the back-to-school spending rush and the all-important shopping fest that lies ahead. Indeed, despite estimates that US retailers were forced to close up to 10% of their stores as the Superstorm swept through, growth in US sales held up in October according to monthly figures released recently. The International Council of Shopping Centers (ICSC) said US chains posted a healthy 5.0% same-store sales gain in the month - compared with a 3.9% rise in September and 4.1% in October last year.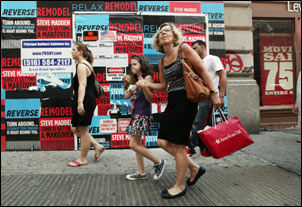 Hurricane Sandy impacts were modest in October for overall industry, said Michael Niemira, Vice President of Research and Chief Economist for ICSC, adding: Easier comparison with October 2011 than with September results was helpful.
US retailers who seem to be on a roll include upscale department store operator Nordstrom, which booked a 9.8% jump in same-store sales, and off-price retailer TJX, which saw gains of 7%. Kohls beat estimates with a 3.3% rise. Macys, which posted a 4.1% rise, lifted its second-half sales outlook despite the interruption caused by Hurricane Sandy. The company is confident that we can make up some or most of the lost sales through the remainder of the quarter, said Chief Executive Terry Lundgren.
Elsewhere, despite a 4% rise in comparable sales thanks to continued momentum at its North American brands, Gap Inc failed to meet projections, while a rise of 3% at Limited Brands, owner of the Victorias Secret chain, also fell short. And while Target Corporation missed estimates with its 2.4% rise in October comparable-store sales, the discounter stayed positive. We feel good about our holiday season merchandising and marketing plans, a statement said. This years holiday season, which kicks off in just a few weeks time, already carried more uncertainties than usual - including the presidential election on 6 November, and the looming fiscal cliff of $500bn in automatic spending cuts to the federal budget and tax increases slated for 1 January 2013.
Add Hurricane Sandy to the mix, and its easy to see why retailers will be keen to recapture any lost sales.
While November should offer a clearer picture of the storms aftermath, questions remain on the amount of discretionary income that will be diverted away from holiday spending towards rebuilding. But the ICSC is also optimistic that some replacement demand will kick in - as well as holiday purchases as the crucial festive season nears. Ken Perkins, President of Retail Metrics, believes the fact the storm hit well before
Black Friday allows retailers plenty of time ahead of this key holiday selling weekend to prepare and add additional promotions if need be to garner lost sales. Had the storm occurred right in front of Black Friday, the impact would have been far more deleterious to retailers.
As Hurricane Sandy swept along the US East Coast earlier, US retailers were forced to close up to 10% of their stores, according to latest figures. As retailers begin to reopen stores again, analysts are now weighing up the long-term impact of the storm on apparel and footwear sales. After being forced to close for two days this week after Hurricane Sandy flooded Lower Manhattan, the New York Stock Exchange reopened for business. But the economic impact of the hurricane, which is estimated to have caused US$20bn worth of damage and has been tagged Superstorm Sandy and Frankenstorm, will take longer to evaluate.
Department stores and specialty apparel chains all experienced net-losses, according to weather research firm Planalytics, after consumer traffic over the weekend - when most retail sales take place - was hit by preparations for the storm.
This article was originally published in the Stitch Times magazine, December, 2012.