Indian market for fusion wear gets commercial. Indo-Western apparelsgive a contemporary look along with a flavor of Indian heritage.
Fashion is an ever evolving and vibrant segment. Indianconsumers are getting more and more conscious regarding their looks. Theirpreference grows toward ethnic apparels with a touch of modernity. Acontemporary fashion getting popular in recent times is fusion wear. This is acreative blend of styles of any two or more culture. Silhouettes are basicallyfrom Western influence, and are blended with Indian textiles and styling. Fusionwear is a preferred choice of people of all class and ages. Enrique Iglesiassported in his music videos wearing sporting embroidered kurtas is a classicexample.
This trend offers umpteen choices for fashion savvy shopperswho are ready to experiment with variations in styles. Not only are theystylish, but also make the wearer to stand out in the crowd. Designers takeinspiration from the East and West to create novel attires.
Indian market for fusion wear:
A recent survey about womenswear states that Indiawomen, particularly the working class prefer trousers over saris due to theircomfort. This trend is also a preferred choice for Indian youth. Retailers arefast adapting to this change, and are stacking their stores with new apparels. Consumersin the age group of 18 to 30 years are fast emerging as a major market and are themain target for retailers. They are ready to experiment with new styles, andthis makes fusion wear, an interesting category for designers and retailers.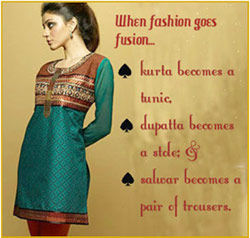 Market for fusion wear is highly price sensitive, and hence retailers price their merchandise to go with the customer expectations, and also focus on enhancing their portfolio. They are cashing in on the trend by aligning their merchandise as per customer preference, and feeding their aspirations. Apparels with Zardozi, Gotta-pati, and embroidery work are seeing an increase in demand. Big brands such as W, BIBA, and Chhabra 555 offer a good mix of Indian and Western wear. Woven fabrics with definitive embellishments have good market. Brand penetration for fusion wear is good at I tier cities, but is still not deep enough in II and III tier cities.
Indo-Western styles:
When fashion goes fusion, kurta becomes a tunic, dupatta becomes a stole; and salwar becomes a pair of trousers. Indian outfit can be given a western touch with creativity in waistlines, cuts in fabric, necklines, and other decorations. Womenswear are the area of primary focus as they facilitate much exploration. A simple looking kurta gets a ravishing look with straps or halter neckline instead of sleeves. Long kurtas can be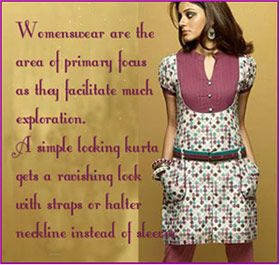 mixed and matched with same or contrary shades of tight fitting leggings. This gives a slim look, comfort, and also a stylish appearance. Hemlines of the traditional kurta have gone up, and are worn with fashionable jeans. A flowing crepe skirt can be paired with a halter neck top, or spaghetti strapped top, giving an attractive appearance to the wearer. Regular churidhar can be worn with straight pants setting a new trend. Patiala salwars are teamed with short shirts, or designer tops.
Indian prints can also be used in western outfits. Blending Indian styles and textures with the western charm gives a whole new look to the outfit. Jeans can have ethnic prints, sequins or embroidery work. A short jacket can be worn with an Indian style duppatta in vibrant shades, or Indian motifs. Even traditional blouses worn with saris can get a fashion makeover. A noodle strap blouse with a conservative Indian sari will give an ultra modern look to the wearer. Saris are draped in Grecian type of clothing paired with empire line blouses.
Fusion wear comes with a variety and for people of all ages. Long skirts have become the fashion remake of traditional lehangas. Long flowing skirts are preferred by both the old and young generation. This solves the generational differences between them. International brands such as Versace pick up Khadi fabrics that are used designers in Europe to design kurtas to go with jeans.
Indo-Western bridal wear: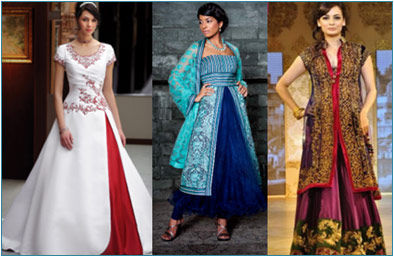 Brides looking for the haute couture look are now going in for the Indo-Western fusion look. Designers such as JJ Valaya and Manish Malhotra have experimented, combining the creativity of East, and West. They are basically traditional Indian wear with innovative western styles incorporated. Fusion bridal wear is most preferred by NRI brides, or by Indian brides who are getting married outside India. These outfits give the bride a modern look, still retaining the Indian flavor. Western bridal wear are embellished with Indian embroidery patterns, and motifs.
Both classic and elegance, fusion wear goes well with the Indian physique. Fusion wear have entered the Indian market in a big way, and is here to stay.
References:
1) Fashiontt.blogspot.in
2) Thehindubusinessline.com
Image Courtesy:
1) Weddingsonline.in