In the recently concluded India-England cricket series Indian spinners performed abysmally low compared to their English counterparts. Spin bowling is considered as a forte of Indian bowlers, especially in the Asian sub-continent. However, the underperformance of Indian bowlers has raised serious concerns on whether the team should continue to bank upon spin bowling.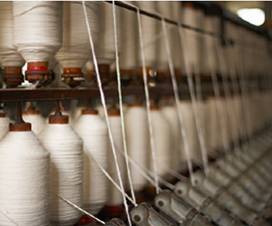 Interestingly, when Indian spin bowlers are struggling to rediscover their strength in spin bowling, Indian cotton spinning mills have mastered the art and science of intelligent spinning of Cotton yarn. They have not only emerged as quality spinners, but also have mastered skilful arts like Chinaman. In cricket, Chinaman is a typical bowling where left hand spin bowler bowls unorthodox spin. Such bowling is considered a strategic tactic as the bowl turns in unexpected direction providing an edge to the bowler even over the toughest of the batsmen. Indian Textile Spinning mill have bowled Chinaman by strategically changing the trade direction of yarn exports to China and have brought back the profitability and much needed capacity utilization.
Strength of Indian Cotton Textile Sector
Cotton spinning has long been one of the biggest strength of the Indian cotton textile industry. This sub-sector deploys world class technology and is considered as the most organised subsector of the industry. Further, India, being the second largest producer of cotton in the world, has an abundant supply of cotton for its spinning mills. India produces more than 3000 million kilograms of cotton out of which 13% is of finer counts (more than 41s Ne).
China: A New Market for Indian Cotton Yarn
Indian cotton spinners have traditionally been exporting cotton yarn to a number of countries. However, in recent years, the export pattern of Indian cotton yarn has witnessed an interesting catapult. Even a few years ago, South Korea and Bangladesh were the major export destinations for Indian cotton yarn. Their combined share of Indias cotton yarn exports volume stood at 26% in 2009/10 and 30% in 2010/11. China, the dominant player in global textile and apparel industry contributed only 9% of Indian cotton yarn exports volume in 2009-10. This number skyrocketed to 30% in the first six months of fiscal 2012-13 and the trend is getting even more prominent in subsequent months. On the other hand, combined share of South Korea and Bangladesh has reduced from 30% in 2010/11 to 20% in first six months of 2012/13.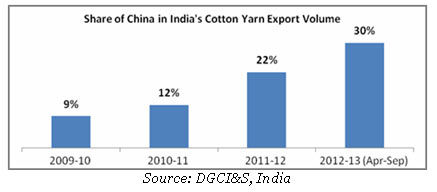 This shift in export destination can be partly attributed to the Chinese cotton policy, which supports cotton price at higher level than prices in other countries. To add to the woes of the cotton spinners, China restricts imports of lower priced cotton from the international market by means of a tariff rate quota. Though the total cotton supply of China went up from 57 million bales in marketing year (August July) 2010/11 to 73 million bales in 2012/13, domestic consumption of cotton has reduced from 46 million bales to 36 million bales due to the high price of cotton. The Stock to use ratio has increased from 23% in 2010/11 to the unprecedented level of 104% in 2012/13. The high cotton price in the domestic market coupled with restricted access to the international cotton market has forced Chinese spinners to shift to manmade and blend yarns. As a consequence, fabric manufactures have increased imports of cotton yarn. Indian spinners have successfully tapped this opportunity created by the Chinese policy.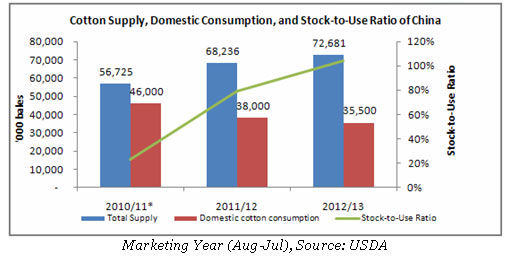 This change in the strategy of Indian cotton spinners and the exporting of cotton yarn to China has added to their credibility in providing superior cotton yarn at a reasonable price. Such a strategy has also provided a competitive advantage to spinners helping them maintain a superior business performance. China produces more than 40% of the fabric produced in the world and is thus an attractive destination for Indian cotton spinners.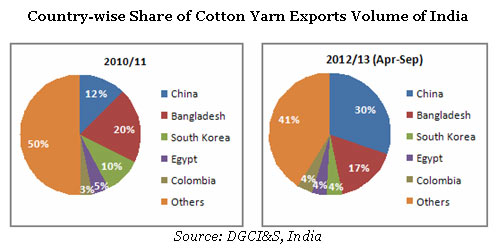 Is this Trend Sustainable?
Any reversal of the Chinese policy may turn the game on its head, making the Chinese market less lucrative to Indian spinners. At present, the cotton purchased by the Chinese government is being stocked in warehouses; the resultant high prices make it difficult for the domestic cotton spinners to obtain this cotton. It is estimated that the state cotton reserve of China has touched record levels of 7.2 million tons which is almost equal to the yearly cotton production volume of China. The release of this huge reserve at international price levels is an apparent option available to Chinese policy makers. This has the potential to disrupt the international cotton market via a huge impact on the direction of cotton price. If such a decision materializes, Chinese spinners will regain access to local cotton and the cotton yarn imports of China will decline substantially. Indian spinners would then have to reformulate their exports strategy to remain competitive.
About the Author:
The author is an Associate Director of Technopak Advisors & Representative of the Cotton Council International, India.