Visual Merchandising Display by NIFT students
A visual merchandising display was created by students of the Department of Fashion Management Studies, NIFT Gandhinagar during their cultural festival Spectrum'2013. The students created the display as a part of their module on Brand and in-store communication. The subject is a part of the course curriculum of the students of Masters of Fashion Management. During the module the students were given inputs regarding faade, signages, store windows, in-store communication, circulation plans, planograms, principles of merchandise presentation, displays, budgeting, handling mannequins, space planning, fixtures, lighting, cross merchandising, colour blocking, tools to enhance impulse buying, exhibit and trade show design etc.
The display was put up as a part of the cultural festival, "Kutpulti" of the institute. The term Kut-putli symbolizes women who were treated as puppets or kathputlis earlier but who have now 'kut' (cut) the strings which control them. The display was created keeping in mind specific themes and product categories. Most of the display themes revolved around the central theme of the cultural festival. The major themes were Break Free, Mind Turners, The wild one, Valentine's Day, etc. and the product categories ranged from apparel and accessories to books and salon. The students explored various materials for display ranging from flex, bamboo, bricks, POP etc. Some of the displays were also created for specific brands and the brand's attributes were kept in mind while creating the display.
Theme: Break Free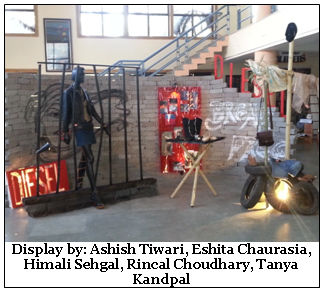 Empowerment means to inspire women with the courage to break free from the chains of limiting beliefs, patterns and societal or religious conditions that have traditionally kept women suppressed and unable to realize their true beauty and power. This display was created for a casual wear brand. Bricks, tyres, bamboo etc. were the various material used for the display which reinforced the tough and outdoorsy image of the brand.