Government plans to liberalise FDI norms for single-brand retail to attract big bucks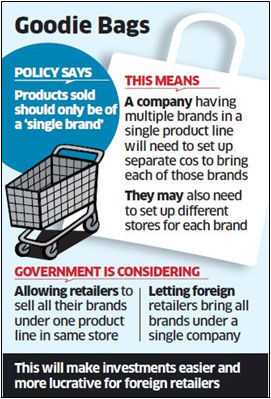 The government plans to significantly liberalise foreign direct investment (FDI) norms for single-brand retail to attract big bucks into the sector. The finance ministry has asked the Department of Industrial Policy and Promotion (DIPP) to amend the policy to allow single-brand retailers to bring different brands belonging to the same product line under one company.

It has also asked DIPP - the government department that frames foreign investment rules in the country - to allow these retailers to sell different brands in the same store.
A government official said the wordings of the present guidelines prevent, for example, a foreign high-street retailer from selling men's and women's clothes in the same store if their brand names are different. Moreover, the retailer needs to submit two different proposals under two different companies if it wants to sell both men's and women's apparel.
Experts welcome govt rethink
"If the same owner has an identical product line under a different brand name, why should he be required to set up a different company," said a government official privy to the thinking of the finance ministry.
The Foreign Investment Promotion Board, or FIPB, the inter-ministerial body that approves FDI proposals in the country, has received 63 proposals from single-brand retailers after FDI was allowed in the sector. While the rush of applications clearly signals the interest of foreign investors in the sector, most retailers want the policy to clearly allow them to sell their different brands in the same store.
"Any policy has to have that dynamism to address the requirements of the changing business requirement," said the official quoted earlier.
Independent experts welcomed the government rethink on the issue.