(Views expressed in the article are the personal opinion of the author.)
Introduction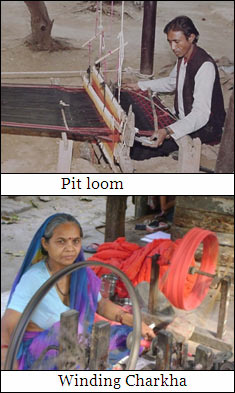 The discovery of several spindles, and a piece of cotton stuck to a silver vase, revealed that the hand spinning and hand weaving of cotton was known to the Harrappans, nearly five thousand years ago. References to hand weaving are also found in the Vedic literature and other prehistoric descriptions.
The foundations of the Indian textile trade with other countries began as early as the second century BC. In the 13th century, Indian silk was used as barter for spices from the western countries. Towards the end of the 17th century, the British East India Company had begun exports of Indian silks and various cotton fabrics to other countries. These included the famous fine Muslin cloth of Bengal. As per Handloom Census 2009-10, there are 23.77 lakh handlooms in India, which constitute almost 80% of world handlooms and provide employment to 43.31 lakh persons directly.
Type of Handlooms
In India, almost all States have handlooms of some kind or other engaged in producing unending varieties of fabrics. In North-East, each and every home is equipped with a back strap loom, called Loin loom which is very primitive but effective for those areas. Here it is customary for the women to weave their own wedding attire.
About the Author:
B.B. Paul is the Director (North Zone), at the Weavers Service Centre, Ministry of Textiles, Govt. of India, Bharat Nagar, Delhi 110052.