In the past few years, there has been a phenomenal changein the work wear of people all over the world. With modern trends influencingmen and women, the work wears have changed their definition from being mundaneto being modish. A decade before it was difficult to answer whether work wearcan look fashionable, but today the work wears are no longer dull and boringbut have become chic and stylish.
It has become essential nowadays to dress appropriately tothe work place where we spend majority of our time. It often becomes difficultfor the working class to combine professional look along with a touch of style.It results in wearing dull and boring work wears. Earlier, the formal wears hadlimited options which led to a monotonous office wear. However, with fashionentering the professional world, people have become conscious about theiroffice attire and wear formal clothes that look professional as well asstylish.
What one wears to the workplace depends on where oneworks. It can be a corporate office, studio, school, hotel, hospital etc.Working in a school or hospital does not mean you cannot look trendy. What youwear exhibits your personality and character! So it's important to know what towear to a workplace. However, there are certain dos and don'ts when it comes towork wear. A spaghetti or halter top, shorts, sneakers should not be worn toany workplace. Also, people take you more seriously if you dress according toyour job.
In certain workplaces like restaurants, hotels, airlines,hospitals, it is important for the company to make a good impression in frontof their clients or customers. In such places, custom made uniforms work wellas there is a dress code for all the employees. Office uniforms are tailor madefor each person; it fits well and looks great. You can have the name of theperson, name of the organization or the logo of a company embroidered on thework wear to give a personalized touch.
It is very much evident that the aim of dressing properlyto work is to show that you are professional, smart and skilled in yourprofession. It does not matter at which level you are working. Hence, thecolor, style, length, fit of your attire will reveal a lot about yourpersonality and how important you consider your work. This does not mean thatyour corporate look should not be trendy. If you choose your attire smartly,you can wear stylish clothes at workplace without losing the professionaltouch.
In past 15 years, the workwear for women has changed beyond definition. Earlier, work wear for women wasnot very interesting. Fashion has touched every facet of women's life. Ladiesalways want to look their best, even in the office. Taking care of this aspect,
fashion designers came up with attractive office wear for women. Today, women's office wear is professional yet trendy, sophisticated, modern, versatile and long lasting.
Nowadays, formal wear for women are available in different styles, colors, patterns and the options are endless. To enhance your professional look, women can team up classy trousers with colorful shirts to get a classy formal look. Also, pencil skirts with fitted tops highlight their curves and also give a professional look. Neutral shades have ruled the office wear for long. Gone are the days when women used to stick to basic drab colors for office wear. Now, women wear bright color that trickles femininity and accessorize it which adds charm to their personality.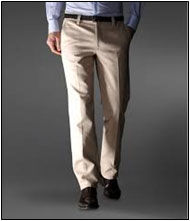 Formal wear will speak volumes about sophistication, talent and personality. Men can wear shirts with cool linen pants rather than the usual black and grey colors. They can also wear pastel colored shirts with white linen pants rather than the commonly worn colors and complete the look with a formal belt. This look will add a cool quotient to your personality and be assured to get noticed. Colleagues, superiors, even office boys evaluate one from what one wears at work. Hence, it is necessary to dress up suitably to office.
If one is skilled, hardworking and liked by most of the colleagues half the battle is won, the rest can be won if they dress aptly according to their personality. Sometimes formal wears get too monotonous; men can change their looks by changing the color of their shirt or by wearing an excellent tie! Make sure the tie color complements the outfit. Along with that carry a cool leather bag for the laptop and you are done for the day.
Most of the corporate offices have dress codes. Some strictly stick to the rules while in some offices the rules are relaxed. Usually, it is expected that office wear should look professional and smart. Moreover, there are countries which follow conservative standards for work wear. In countries like USA or Australia, men would normally wear shirt, suit or tie and women would wear skirts, dress, pant with a smart top. However, this would not be acceptable worldwide as work wear.
Like in many Middle Eastern countries people would raise their eyebrows if women wore pants to the office, while in China high heels are not allowed in office. However, clean ironed clothes and decent dresses are generally considered acceptable office wear anywhere in the world. It is advisable to take little care while dressing; especially women should avoid revealing clothes, miniskirts or plunging necklines in the office. One should always see that your clothes pass on the correct message of how you want to be recognized.
Work wear has travelled a long way from being dull and boring to being stylish and modern. A combination of trendy formal wear with professional attitude and decent behavior completes a perfect formal look. At present times, one can undoubtedly say that work wear can definitely look professional and at the same time fashionable.
References:
Beautify-flr.blogspot.in
Articledashboard.com
Mensxp.com
Monkeysweat.com
Image Courtesy:
Clippercorp.com
Theglobalplaybook.com
Strategic-risk.com