Introduction:
A Home of textiles, India has always been known for its crafts and culture. The mesmerizing weaves, vibrant colors, intricate embroideries,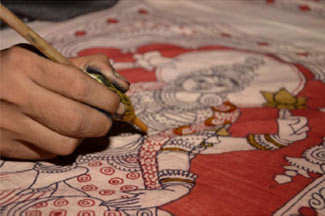 decorative motifs, and elaborate costumes have been most sought after inspirations and possessions. The amalgamation of tradition with technique denotes the fact that work has always been worship, and thus has been followed with great devotion and reverence. Probably, it is this devoted detail that has put Indian textiles much in demand in the network of textile trade. Inherited through generations of family traditions, these crafts techniques have been nurtured and groomed under skilled guidance and thus have evolved to be known as heritage crafts of India.
Keeping in tune to its cultural traditions is one such textile craft, Kalamkari, the dye painted textile of India. With a 3000 year old history, Kalamkari is believed to have been known in Persia in addition to India. Practiced in both printed and painted styles, Kalamkari has been popular within the circles of textile trade. Symbolically named after the technique of its making, Kalam/ Qualam meaning pen and kari meaning art, Kalamkari has been prevalent in several parts of Southern India.
About the Author:
Prof. Malini Divakala and Dr. M. Vasantha are associated with the Department of Fashion Design at the National Institute of Fashion Technology, Hyderabad, India.