Floor length dresses are a huge hit on and off the ramp this year. Designers, celebrities and trend setters are flaunting maxi-dresses everywhere. These dresses are inspired from gowns but are more easy-breezy and free-spirited. They are available in a medley of different prints and colors. Maxi-dresses are just the perfect way to look sassy this summer. If dressing like a hippie and being the quintessential bohemian girl suits your personality, make these dresses a staple item this season.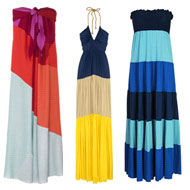 They are available in single colors, bold geometric prints; maxi-dresses can be pulled off as casual wear or work really well even for a night out. What more, is that one can layer them up with a loose shirt or a denim jacket to try different styles! Pair it up with flat sandals, aviators and a whole bunch of accessories to spice up your look.
Playing with different kinds of scarves and bags will revive the mundane style. Statement belts and lots of bangles always gel well with these dresses. Maxis go well with flip-flops and wedges, so give the stilettos and strappy sandals a miss. This is exactly what makes them so fashionable! One can dress up or maintain a low-key depending on the occasion and the place.
Different patterns, fabrics, and silhouettes make maxi-dresses popular among women of all shapes and sizes. It has also broken the myth; that maxi dresses are only for models and skinny women. The market and stores are flooded with designs for the young, middle-aged, petite, and even expecting mothers.
The Maxi dress became visible for the first time on the fashion scene in the 1960s. Oscar de la Renta designed a lace version in cotton for the Elizabeth Arden Salon in 1968.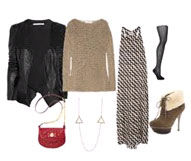 Thus, began the era of the gorgeous maxi dress. Soon leading designers like YSL, Halston, and Dior followed the fad and introduced maxi like kaftans. The 70's witnessed the much loved maxis in psychedelic colors, paisley prints and abstract colors. And, now again the maxis are back with a bang, and are here to stay. The spring 2012 saw designers like Valentino, Gaultier, Michael Kors, and Alberta Ferretti showcasing maxi dresses and bombarding the runway. Why have the maxis lasted forever and survived the changing trends?
The flexibility and ease of the maxis make them not just a summer garment, but also something one can slip into even in winters. Trade in the shirts, flats, and scarves for a leather jacket, boots, and leggings, and one is good to go out in the cold. With so many varieties available, one can get confused. The maxis for summer have hem lines up to your ankle, which means one can go a little short on the length.
Taller women can choose longer and floor length hem lines would suit. While for the petite ones, ankle length and fitted maxis would be preferable. Shorter women should stay away from big patterns and prefer single colored dresses. Women, who are slightly on the heavier side, can opt for a flared hemline, which would cover all the physical flaws, enhancing one's physique. Another reason maxis are really popular, is because they conceal the parts of an individual's body that they are not comfortable with and still stand true to the test of looking fashionable.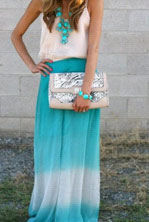 Maxi skirts are an extension of this obsessive trend. These skirts look soft, chic and feminine. The spring and summer is just the right time to indulge in beautiful long maxi skirts. Maxi skirts come in soft cottons and flowey chiffons. Cute polka dots, bold stripes, floral, and dip-dyed are some popular prints. Corsets, fitted shirts, lacey top or a t-shirt work well with maxi skirts.
Vintage statement necklaces, sling bags and over-sized rings are few options one can pick from to add some bling. Maxi skirts also come in an array of patterns, for example, high waist skirts, paddles skirts, that have high hem lines at the back and lower ones in the front, pleated skirts, skirts with slits and flared ones. Blake Lively, Olivia Palermo, and Kim Kardashian have adorned maxi skirts and rocked the trend. Much like their counterpart, maxi skirts can also be worn in winters with a cardigan, thick tights, and boots.
Clearly, maxis are a rage, be it dresses or skirts. There is something in store for women of all age groups and sizes when it comes to maxi dresses. Whether one is going on a vacation, to a party, a dinner date or having just another casual day out, there are plenty of options to choose from. This is why the maxi is gaining brownie points and has proved be designer's favourite in the fashion scene.
Maxis are flattering, flirty, yet absolutely comfortable. This summer, make maxi dresses a wardrobe essential and a must-have to live it up to this fabulous trend and look stylish.
References:
1. Augrenier-claudia.blogspot.in
2. Typef.com
3. Minxsociety.com
4. Wish.com.au
Image Courtesy:
1. Fashionfreax.net
2. Thestyleandbeautydoctor.com
3. 4.bp.blogspot.com
4. Madwell.com