Just like the name suggests, resort wear is what one can indulge in while basking in the sun on the islands of Phuket or rendezvousing with friends on a yacht party. Bid adieu to shorts, t-shirts, and flip-flops to embrace the stylish trend of resort wear and stay fashionable even while one is merry making. The feel, look, and the attitude of the resort wear is lazy, fun, and relaxing, just what one would want while unwinding. The fabrics are free of all the fuss and stay wrinkle-free. This international trend hit the runway and landed in India in the year 2011 with much grandeur. Designers like Manish Malhotra and Shivan-Naresh displayed chic, playful and elegant looking garments.
Resort wear is not just beach wear. Kaftans, jump-suits, colorful pajamas, neon pants, quirky printed shirts, sheer tops, flowing gowns, and Sari bikinis are a few options to pick from. This concept is however new and catching up among the Indian consumers. People like to go on a shopping spree before they head out on a vacation, and look their best even while they are letting their hair down.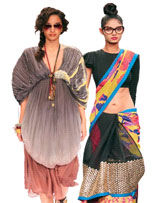 India, being a warm country, makes it perfect to opt for resort wear that can be pulled off year long, and not just limiting it to the purpose of vacationing only. Resort wear syncs well with the hot weather conditions that prevail in most parts of India. With urban and young Indian consumers acknowledging the trend gladly, international brands are looking into entering into this niche market soon. This certainly proves that India is a growing market as far as resort wear is concerned.
Internationally, designers have labeled resort wear as cruise, holiday, pre-summer or pre-spring collections. The Resort wear is squeezed in between the autumn/winter and the spring/summer collections. In 1930's the resort wear or cruise wear was confined to the elites and for the well heeled. Affluent clients who spent their time cruising or soaking the sun in the Mediterranean, post Christmas or New Year's Eve, initially gave rise to this genre of clothing. Bathing suits, kimonos, pajamas, and floppy hats constituted the early trends. Designers like Lilly Pulitzer, Coco Chanel, and Elsa Schiaparelli were instrumental in popularizing the trend. The 1950's saw the era of bikinis in resort wear being a huge rage.
Unlike then, resort wear is not just limited to a wealthy clientele anymore. Designers like Ralph Lauren, Tommy Hilfiger, and Michael Kors have made resort wear an easy to wear day to day clothing.
Few trends in resort wear have remained evergreen and timeless. For example cotton, poplin, silk, and linens have been the choices of fabrics for clothes in resort wear. These garments are high on comfort, luggage friendly and dry easily. Sheer tops for women and linen pants for men have always remained favorites for resort wear.
The men's clothing consists of cotton or linen board shorts, light weight dress pants, collared shirts for the breezy mornings, and elevate the look with a sports jacket for the evening. Hawaiian or pastel colored shirts and boat shoes are perfect choices while vacationing too. Women's clothing for the resort wear constitute of neutral colors combined with a dash of pop, dresses or tops in native and tribal prints, playsuits, and stripes are influencing this seasons resort wear. Oversized hats, funky sunglasses and open toes shoes elevate the holiday look. During the day, jump suits, flirty tunics, colorful chinos look flattering. While long gowns, chiffon shirts along with linen trousers and Kaftans own the night.
The resort collection is also working wonders for designers. It does more than just acting as a filler between the winter and summer collections. Designers are always looking for new markets and market segments. The desire for giving their customers something new has given rise to coming up with a whole new collection of holiday wear every year. Resort wear collection is the longest lasting i.e. from November to May, which is why a season inspired by leisure time, is given an independent focus by the designers world-wide.
The resort wear also allows designers to experiment and come out with refreshing and newer ideas, which are also wearable. Resort wear is a platform for designers to parade their creativity and provide customers an assortment of traveling cum vacationing clothes. Renowned designer Jason Wu, in an interview with the Wall Street Journal, quoted," The numbers (sale of his resort wear collection) are just as great as the main seasons". Resort wear is thus, synonymous to making big business even with designers.
Whether one is going on a holiday or wants to stock their wardrobe for in-between times of the year, resort wear provides ample variety and choices without burning a hole in the pocket to consumers.
References:
1. Wonderwoman.intoday.in
2. Thehindubusinessline.com
3. Nymag.com
4. Theglassmagazine.com
5. Magazine.wsj.com
Image Courtesy:
3.bp.blogspot.com
Pinimg.com
Exoticexcess.com
Images.idiva.com
Fashionstyletrend.blogspot.in