Onceyarns are made up of natural or man-made fibres, a fabric is woven or knitted.Besides a color or texture, prints are something that breathe life into thesefabrics and make them visually appealing. Quality of a fabric and the printsdecide the destiny of a fabric. Fabrics are used in the apparel industry tomanufacture clothes and accessories, for domestic purposes like table clothes,bedspreads, curtains, towels, cushion covers, and for home dcor in the form ofupholsteries and furnishings. Hence prints play an important role in selectinga fabric. This is where a textile or fabric designer comes into the scene.
Textiledesigners drive the process of creating designs for knitted, woven, and mixedfabrics. Designers require producing designs, keeping in mind the type offabric and its use. The designs can be for a body or a certain space. Bodydeals with fabric designing for fashion, clothing, and accessories; whereasspace refers to textile designing for interiors, furnishings, and environment.Hence one needs to have a sound knowledge of present trends, colors, and contemporarydesigns to be a good textile designer. Designers also need to possesfamiliarity with which pattern works well with what kind of fabric. Their jobrequires them to do research on different fabrics and comprehend various dyescomposition. They also tend to expertise in either knitted, woven, or mixedfabrics.
Textiledesigners are vital for pushing the design process forward. To begin withdesigners need to meet the clients for whom the fabric is to be designed.Preparing mood boards, portfolios of designs and concepts, and a verbalpresentation, to demonstrate their art work to the potential clients,encompasses one of their wide ranges of roles. After the designs are approved,the designer has to be around to solve and assist in printing process of thegarments. Textile designers may work in teams or in standalone studios.
Traditionally,textile designers dealt only with colors, patterns and material aesthetics. Butnowadays, designers are involved from the start to finish of the fabricdesigning process. These days, textile designers are indulging in the sourcing,trend forecasting, marketing, and even branding of fabrics. With newopportunities available, textile designers also work as freelancers, besidesthe conventional in-house design facilitators. The freelancing option, hasgiven rise to many young and dynamic textile artists, to explore this genre,and work at their own convenience, at the same time sell their designs, oroffer designing services to a brand or company on commission.
Besidesthis, one can also pursue a career in yarn designing, which also has immenseopportunities. These yarn designers develop special yarn with particular focuson the color, which plays an essential role. These yarns are developed forexclusive purposes like that for hand-knitters or weavers and craftenthusiasts.
Computer aided Designing (CAD) has also opened ample amount of avenues for textile designers. A lot of CAD agencies recruit textile designers, where technology is used as a medium to convert design ideas on fabrics. This has also led to a market for independent designers, who can source designs sitting anywhere in the world, and sell designs and their art work to clients or brands. Thanks to social media and e-commerce, the web is flooded with textile designing websites, where one can sell or buy designs. This means designers now have the fair shake to invent a design or print and sell the templates at a price.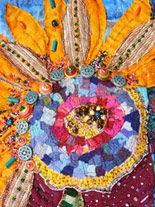 The recent trend of working and independent conceptualizing of designs in fabrics has given birth to textile art or textile craft. Just like, other art forms, this gives designers an opportunity to display their creativity and share their ideas in textile or art studios. These materials are hand crafted, painted, or dyed. They are used in high-fashion garments, as art pieces, and in home furnishings. The fabrics developed by textile artists are limited edition items. Hence this is another lucrative and niche market textile designers can explore.
However, whether one chooses to be an in-house textile designer at a large company or for a brand, or a freelance textile designer, both in recent times will be facing new challenges. Adapting to changing customer needs, latest technologies, providing timely outputs, and understanding market demands are some mundane responsibilities of a fabric designer. But owing to increasing environmental issues and hue and cry for sustainability, pose new demands for designers to lock horns with. Using ethical policies and sourcing, biodegradable designs, and sustainable techniques have made textile designer's job more thrilling than ever.
To conclude the world of textile designing is not just limited to creating patterns and colors for fabrics anymore, a designer can now specialize in color, computer designs, creating single templates like pictures, even slogans, and textile art; be a designer for a large company or consider freelancing, the options are wide as the sky.
Reference:
1. Cornell.edu
2. Schoolintheusa.com
3. Safaribooksonline.com
Image Courtesy:
1. Lucamolnar.com
2. Artquiltsbylynn.blogspot.com
3. Farm5.static.flickr.com