There are numerous apparel lines launched by famous celebrities and even reality stars in today's fashion world. Also many celebrities are riding high as they have achieved success with their apparel lines. Their clothing line has been liked by people around the world and hence they have become popular apparel brands.
It is an evident fact that fashion apparel is a lucrative business, as we can see more and more celebrities coming up with their apparel lines. Hence, we can expect many more celebrity fashion lines coming up in the future. Most of the times, it is not the hard work they put in designing the clothes that gives them popularity. Some celebrities work to create their unique design and style whereas others have just started their own brand and both have tasted success.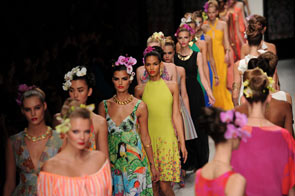 Some celebrity apparel lines have earned plenty of profits while some are just doing an average business. One of the biggest reasons for the success of celebrity lines is the person who is launching it. It is obvious that if a celebrity launches his/her own line, they just have to promote it at few places and the rest is taken care by the media who leave no stone unturned to propagate about the celebrity's brand.
Being a world famous face, it is easy to get publicity for their apparel brand. Secondly, every celebrity will have their fans all over the world, who will definitely buy their favorite star's apparels which raises their sales. It is easy for celebrities to start a fashion trend. All they need to do is start dressing in a particular way and the world will follow.
There have been many instances where celebrities have introduced a particular trend in their clothing lines and their fans have just loved it. Like successful rappers have launched street fashion in their clothing line and the young boys who like their music purchase the clothes just to look like them. This means the celebrities already have audiences ready to buy their apparels.
When celebrity endorses a particular style, many people are attracted specially the younger section. This is evident from the apparel brands of Justin Timberlake, Jay-Z, Jessica Simpson, Victoria Beckham etc. As their high profile lives always keep them in news, so do their apparel brands which get free publicity in the fashion world.
We live in an age where celebrities have a significant influence over people. Everyday their photos are in the newspapers, magazines and they can be seen on television. Hence, their impact is fresh in the minds of the people. If a celebrity wears a designer's collection on a red carpet event, his collection gets noticed and appreciated. It enhances the credibility of a designer. Such is the impact of the star power.
Hence, the celebrities try their hands as a fashion designer and there are many apparel lines that are popular due to the celebrity status. However, there are some celeb designers who are dedicated to their apparel line and have stood out with their designing abilities. Like Victoria Beckham who started her apparel line which was an instant hit.
Even though her clothes are pretty expensive but have received great reviews from the fashion world. Her clothing line sale is estimated to be worth $95 million. Moreover, the fashion experts have even said that her clothes will be sold not because of her celebrity status but purely on basis of the classiness of designs, cut, and fit.
Another example of successful celebrity apparel line is of Jessica Simpson whose fashion line earned a whooping $1 billion. She is not known as the best actress but she has topped in the celebrity fashion lines. Apart from shoes, apparel, accessories and perfumes, she has currently entered into diamond jewelry business. Her fashion line is an affordable one for fashionable girls to follow.
Furthermore, we have Mary-Kate and Ashley Oslen who have their unique and artistic twin's style. They started with children's apparel line in 2004 and succeeded before stepping into the high fashion field. Their brand 'The Row' once again proved to be successful and the twins have estimated sales of more than $1 billion.
Gwen Stefani is next celebrity who launched her L.A.M.B apparel line and wanted people to buy her clothes not because of her name but only on the worthiness of her apparels. Her brand showed her bold, edgy and diverse styles in fashion and has been appreciated by the fashion critics. She has a successful line which has bags, shoes, and perfumes which earns her a reported $90 million a year.
With these few examples where celebrities have worn a designer's cap is worth applauding. Their brands are popular because of their work and not their status. However for a fashion designer who have studied fashion designing for years and is striving to make a mark in the fashion industry, would be upset to see a celebrity with no knowledge of fashion designing showcasing his/her line in the Paris Fashion Week.
There are other popular and successful celebrity apparel lines that have not only turned the cash counters ringing but also are known for sophisticated and unique style they bring through their clothing lines. Being a successful rapper, Jay-Z entered the fashion world with his unique street style collection. He very well knew that his fans would instantly buy his clothes.
His apparel line 'Rocawear' is one of the most popular urban lifestyle apparel line and has a sales over $700 million. Other celebrities who rank in the top ten successful apparel lines are Justin Timberlake, Nicole Richie, Rachel Zoe, P. Diddy and Kimora Lee Simmons. However, there are few celebrities whose apparel lines have not become popular as their counterparts.
The world is crazy about celebrities and they of course know to cash their popular faces by launching their fashion lines. The celebrities know they are popular and have multitude of fans who are their potential customers. They are well aware that their ardent fans will definitely copy their style which makes their clothing lines successful as well as popular.
Reference:
1. Article-niche.com
2. Dailyorange.com
3. Forbes.com
4. Businessinsider.com
5. Time.com
Image Courtesy:
1. Sequinsandstripes.com
2. Guardian.co.uk