The travel retail industry has come a long way from the mundane duty free shops and book stores. Perfumes, tobacco, and confectionary shops have also become a dime in a dozen at airports. 50% of an international airport's revenue is generated from duty free and travel retail activities. In recent times, the travel retail sector alone is estimated to be a $50 billion industry and is expected to bloom into $60 billion and grow up to 20% by 2015.
The concept of travel retail began 60 years ago. The Shannon airport, in Ireland saw the world's first duty free shop in 1947, and was a transit stop for flights between Europe and North America. Once the passengers had passed passport control, they got rid of all the duties and taxes on their purchases. The trend caught on to all of Europe and the rest is history.
The global travel retail sector is not limited to international airports; it also includes cruise lines, ferries, and ports. However, an international airport still enjoys the lion's share and remains the dominant player as far as this industry is concerned.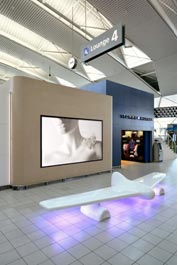 This sector is now home to many glamorous brands and attracts the luxury products category like Tommy Hilfiger, Ferragamo, Hermes, and Guess to name a few. The tiny pop-up stores are now turning into ritzy boutiques, and providing world class shopping experiences like no other, to impress customers, and get the sales rolling.
Fragrances and cosmetics still acquire 31% of sales in the single product category in travel retails. However, the luxury products that include fashion and accessories are the key players, and constitute 37% of the sales. Hence travel retail has become a shopping window to many luxury brands. According to TFWA, the world's largest duty free and travel retail association, the Asia Pacific is emerging to be the new market and accounts to 35% of sales, outperforming Europe and America, whose shares are 34% and 23% respectively.
The sales of travel retail outlets are directly related to passengers, who are wealthy, are in awe of big brands or to whom the privilege of buying certain products is not available back home. China, Russia, and Brazil top the list of affluent flyers splurging on luxury brands. Travelers from Middle East are the next target market in the travel retail sector and especially for the luxury fashion brands.
Consumers usually pick up products at travel retail stores for gifting purposes, for personal pampering, because a certain brand is yet not available elsewhere, and to solve the issue of tighter hand baggage. The environment that luxury brands provide at airports is of great importance. These new age, brand conscious consumers seek high customer service, and do not want to settle for anything but the best. They seek an exceptional range of luxury brand products and want to enjoy their shopping experience. Not to mention, providing personalized and customized products will be an icing on the cake.