Fashion is full of fleeting trends and new fads, and adapting to them to look stylish throughout the year. And every year there are clothes that one stocks up according to what is 'in' that season, and tosses out what's not. But then again there are some styles and trends that stay on, and leave fashionistas wanting to embrace them a little more. 2012 did pass on some of these fashionable trends to explore the options this year too.
2012 saw a splash of bold and bright colors, neon pinks, fluorescent green, electric blues, and gave rise to the color blocking trend. Full-on suits became very popular in mono-colors and prints. It was also the year when it was raining all leather on the fashion scene, from leather leggings to dresses. Another super comfy fad was of pajama styled pants, printed pants, oxblood colored dresses, peplums, and, baroque patterns that were found flaunting by people everywhere.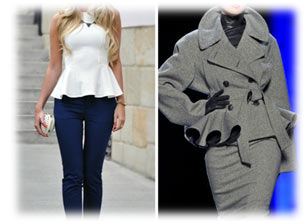 There have been a few styles that have survived the test of time, and surpassed the latest fashion additions from 2013, and yet remained in vogue. Peplums were a huge hit then, and are still winning hearts of the fashion conscious this season too. Peplum dresses, tops, skirts, jackets, and tunics were seen on runways, red carpets, and even more in stores. The reason this trend has managed to stay this long is because it looks great on skinny, curvy, petite, and all kinds of figures. Peplum tops are easier to carry and sport, than peplum bottoms like skirts, pants, and shorts. This year designers like Alexander McQueen and Balenciaga showcased collections with peplums and they are definitely a la mode this year too.
The eye-catching colorful blazers have also been embraced with a lot of affinity. Pop colored blazers made their mark in 2012, and still remain a happening trend this year. They can be paired with dresses, shorts, and skirts, to stand out and look chic. These multi-purpose blazers have managed to find a permanent place in wardrobes of the fashion forward, and are available in all hues at affordable prices. If one plans to invest in this statement piece, then bright pinks, cobalt blue, and emerald green are the most sought after colors this season.