Mobile marketing is trending high to reach wider audiences. There are more than 100 million people who have access to smartphones. And in a technology conscious market, fashion brands and products need to adapt to the latest medium of communication to reach and retain their consumers.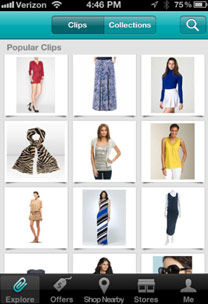 After the enormous response fashion retailers are getting from online shopping or e-commerce, the next big thing hitting the fashion industry is m-commerce (mobile commerce). Shopping on a mobile can either be purchasing through an online website on a smartphone or shopping using a mobile application (app). In a world where there are apps for everything, why not have an app for one's favourite fashion brand?
Out of all the branded apps available on phones, it is estimated 17% belong to the fashion industry, which covers luxury brands, high street apparel labels, shoes, and outdoor gear. The act of shopping once meant going to the mall or a store, and buying a garment. But today, with the swipe of a finger, consumers can sit anywhere and shop for their favourite brands. Mobile apps are breaking geographical barriers and providing consumers a seamless shopping experience.
Moreover, according to a Comm score survey in 2011, clothing and accessories were the second highest items to be purchased by mobiles, after electronics. The report estimates 37% sales of clothes and accessories by retailers on mobile apps. This sends a strong message to fashion retail brands, that there is no better and smarter way to connect with customers than this.
Venturing into retailing of fashion brands on mobile apps, helps in reaching masses and explore newer markets. Top brands are also using the mobile platform to get in touch with their customers directly. These apps not only serve the purpose of mobile shopping, but also provide cross-channel engagement for customer loyalty. In fact, brands like Neiman Marcus have developed an app that integrates the mobile shopping with physical stores, by providing shoppers with details, like getting information of which of their favourite sales girls is on the floor that day, while they walk in to shop. Facilities like these require speedy technology to keep customers engaged all the time.
The fashion industry has always been known to give loyalty points or rewards to keep customers interested with plastic membership cards. Now a mobile app can make it simple for customers, to keep a track of their points and update them with offers, and discounts the moment they walk into a physical store. Fashion brands are leveraging on mobile apps to increase the brand's presence among consumers, smartphones make this process faster and easier.