Denims are staple wear of every wardrobe. Today's denim trends have emerged in variety of patterns, colors and textures. It is true that designer clothing is comparatively more expensive, but most of the times they are worth the cost.
It's time to come out of the old fashioned jeans and try out the latest trends that has arrived. Sometimes one has to put in great effort to find the ideal denim wear; be it jeans, denim jackets, shirts or even shorts. Buy a pair of designer jeans and be assured that one has made the right investment. Designer denim will turn heads every time it is worn to validate the investment one has made.
There are some strong reasons why some people prefer to spend more to buy popular designer denims than the usual stuff available in the market. Firstly it's about the quality. The fabrics, sewing methods, unique patterns are such that one can find best quality with the designer brands.
They use best fabrics and most are cut and stitched separately compared to the ordinary denim companies which may use cheap fabrics and stitch in big lots. Moreover, designer jeans will last more than the normal jeans and will not wear out or become dull quickly even after wearing it every day.
One of the main reasons for wearing designer denims is the style quotient. It is evident that designer products showcase the latest trends in the market and wearing one of them will put the person on the centre stage. Designers display new trends every season to update one's fashion sensibilities.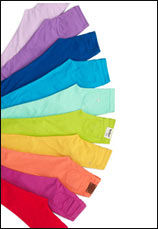 The designer brands ensure their garments give best fit to their customers. As high quality fabrics are used, the jeans fits better over a period of time rather than becoming tight or loose. Hence, many people opt for designer denims. While the regular jeans company produces the jeans that are less expensive but may not be reliable with regards to size, fit and fabric. However, there is a consistency in the denims of the designer brands even after years.
A number of new trends have been introduced this season by the designer brands and is in rage among men, women and children. The colored denims have become highly popular. From subtle to trendy neon colors this season has come up with all possible shades in denims. It is amazing to see the number of stylish and attractive products the designer denim brands have come up for true denim lovers.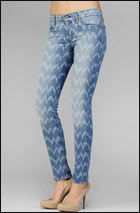 New and creative patterns, fine shapes and numerous colors, the latest trend swears to satisfy every customer. Some of the new trends in denims for women are patterned denims, denim T-shirt dress, jeans with zipper pockets, boxy jean vests, jeans with contoured joints, bleached print denims etc. In addition, vibrant colored jeggings for women are in vogue. Tribal and ikat prints are the trend setters.
Levi's new geometric pattern accentuates the look. New light weight denims give a softer feel to the skin. High waist and ankle length jeans are widely admired. Body hugging denim will light up the glam quotient. Besides, Hudson brings ribbed fabric denims that will give velvety feel. One can choose from these patterns, styles, cuts and colors and bring home ones favorite designer brands.
Jeans has not only captured the closet of adults but also is a 'must have' in every kid's wardrobe. Denims for kids offer range of garments. Skinny jeans, destroyed jeans, boyfriend jeans, colored jeans and jeggings are the hottest trends of this season for kids. Moreover, biker styled denim is great for both boys and girls. Other trends like multiple badge and washed patches, nude shades denim are very much in fashion.
Today's kids are adding zest to their look with colorful jeans. They are available in hot pinks, reds, blues and variety of bright shades. For girls other than jeans, skirts, waistcoats and jeggings are most sorted after, whereas for boy's denim jackets, dungarees, shirts are the flavor of the season. For girls, jeggings are the best option available with comfort and style. Picking up any of the above denim garments to make the kids look uber cool.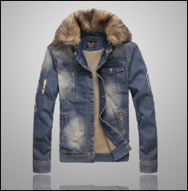 A denim jacket exemplifies strong masculinity and manhood for men. It can be matched with almost any garment. They give a rugged and casual look and are the best to keep the chill away. Denim jackets have been popular since 80's and every designer brand has introduced their designer denim jackets.
Moreover, it's not necessary to go for a denim jacket only to look stylish. One can pick up denim shirts, vests and they look equally great. To add something extra to a plain dress, pair it up with a denim vest and one is at their best.
Latest trends in denims for men have more detailing, bleached effects, patchwork and many new washes. Popular designer brands like Valentino, Louis Vuitton and YMC have come up with classic denim jackets for men, while Acne and Richard Nicoll have gone for unusual ideas like round denim jacket with cropped round neck, stone washed jacket giving importance to minor detailing.
Additionally, brands like Versace and Dsquared2 have come up with sleeveless jackets. The fashion press has given denim the status 'fabric of the season'. Hence, this season denims have variety of styles and colors for men as well.
Each designer denim brand has their distinct quality that gives them a unique identity. No jeans can make one look more debonair than Gucci's ever fashionable designer jeans. For those who do not have a perfect body and wish to look great in jeans should opt for the famous brand 7 for All Mankind. Levi's is another renowned brand ruling in the denim market for over 130 years and known for the quality of the fabric and its skilled cuts.
People who want some funkiness and peculiarity in the jeans still do not want to end up looking quirky; Diesel is the best brand to rely on. They add some clever detailing, attractive stitching, square pockets at the back which makes them one of the best denim brands of the world.
To end with, denim is undeniably a versatile fabric and has ruled the wardrobes of people worldwide. New trends are constantly coming up every season and continue to affirm that this iconic fabric is ageless.
References:
1. Askmen.com
2. Besthealthmag.ca
3. Refinery29.com
4. Fashionbeans.com
5. Earnshaws.com
6. Sheknows.com
7. Denimblog.com
8. Overstock.com
Image Courtesy:
1. Designerdenimdeals.com
2. Fashiontrendsdaily.com
3. Aliexpress.com
4. Oprah.com