Looking fashionable is now a child's play. High fashion has entered the market for kids wear. Designers are exploring the option of creating miniature couture wear for kids and even hosting shows with a dedicated collection to children wear for spring/summer and autumn/winter. An American market research based company called Global Industry Analysts, predicts the global market for kid's wear is going to reach $ 156.8 billion by the year 2015.
Celebrity kids like Tom Cruise's daughter Suri, Jessica Alba's little girl Honor, and Madonna's daughter Lourdes have endorsed fashionable designer outfits at several occasions and provided an impetus to this trend. The couture wear for kids is estimated to grow 10% every year, and is increasing to the extent of occupying a larger share in the overall apparel market.
Earlier the kids wear segment was dominated by Disney, Mother care, GAP, Benetton, Zara, DKNY, and other character licensed apparels like Barbie, Hello Kitty, Mickey and Minnie Mouse, and Winnie the Pooh. These brands offered play wear, casual, denims, and night wear collections. But with luxury brands stepping in, one can find miniatures of the adult collections adorning the retail stores and making clothing for kids as trendy as can be.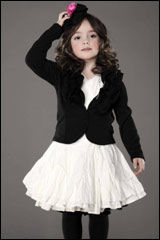 The couture wear for children is now thriving to an extent that a whole fashion week was put up especially for kids wear in London in March 2013. The event showcased works of 30 designers including Oscar de la Renta,, Roberto Cavalli, Kenzo, AlexandAlexa, to name a few. Other designer labels who have got the trend running are Jean Paul Gaultier Kids, Baby Dior, Young Versace, Fendi, and J.Crew.
Even though the apparel industry was hit by global recession, the market for kids wear continued to remain strong and was also one of the first to recover from it. In 2008, the apparel industry for grown-ups dipped down to 5%, while the children wear faced a drop of 1%. This is one of the reasons why this market is flourishing and is attracting high fashion brands. With families getting nuclear worldwide and rising incomes parents do not mind spending more money on children. Moreover, these clothes run from new born to 12 year old kids, being in growing ages of childhood, their sizes keep changing and always require new clothes, which in return increase sales.
There have been many debates, and child fashion has received a lot of criticism. Letting kids be kids, and dressing them up in flashy clothes will steal their innocence, and make them more like adults. But on the other side are parents who feel that they always want to give their children the best, and nothing dresses them better than designer clothes.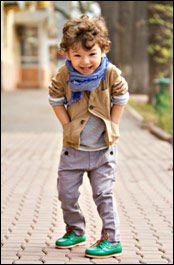 The kids fashion wear is not about cartoon printed t-shirts anymore. Until now, the children wear section had designs and patterns from last year's adult fashion in miniature forms. Today, the kiddie couture has its own fashion trends and incorporates unique styles and collections.
The major sales of kids couture wear come from the US and Europe, with growing double family earnings of working population and bigger disposable incomes. Rise in international travel and increased awareness among children about fashion and clothes have also influenced the purchasing behavior for designer labels.
Industry insiders believe that China is the biggest target market for couture wear for kids. China is already home to Baby Dior and Gucci, and other brands like Burberry plan to open their stores too. It is estimated that by 2015, the number of affluent Chinese families will be over 4.4 million households, who will be the future market for such couture products.
The target markets for these brands are parents who already shop for luxury products and designer labels, and posses the ability and desire to buy expensive clothes. Not just parents, but in European countries grandparents are buying high-fashion apparels for kids and driving the sales.
According to a French luxury kids clothing brand, Bonpoint, 70% of their customers were women aged between 25 to 40 years old, and adults were buying clothes not just for their own kids but also for gifting purposes. Brands like McCartney, Lanvin, Converse, Gold Belgium, and Little Marc are soon going to make their debut with the kid's designer wear collections soon. The 2012 forecasts of the global market review of the top ten global markets revealed that the US, UK, France, Germany, Italy, Spain, China, India, Russia, and Japan spend plenty on kids apparel. The highest sales in this segment are seen when the schools are re-opening in most countries which is during the months of August and September.
The hefty price tags are certainly not keeping parents away from buying a cute piece of designer garment for their child, and there are not as many brands for children's designer wear as there exist for adults, hence this industry is thriving and growing substantially.
References:
1. Globaltimes.cn
2. Latimes.com
3. Prweb.com
4. Just-style.com
5. Apparelresources.wordpress.com
Image Courtesy:
1. Newclothing.co
2. Vesticerodar.blogspot.com
3. Keytikat.tumblr.com