After e-shopping and mobile shopping, one thing that is taking the clothing retail industry by a storm is social shopping. It is a new way to shop online by interlinking retailing with social media networking sites. While shopping, one question that is inevitable to ask is "How does this look?" with the help of social media, whether one is buying in-store or online, they can consult friends and family before purchasing a garment.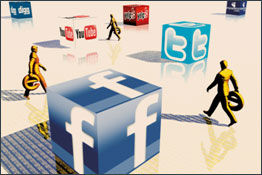 Online retailers are boosting their sales and enjoying the rewards by leveraging on their social presence on networking sites. Increasing customer interaction plays an important role in increasing sales in clothing retail, especially on online stores. A research study done by EBay estimates more than $ 3 billion every year to be the future market for social media in retail.
The conventional way of using the social medium by clothing retailers is to share information related to new styles and designs by posting photographs and videos, which generates a curiosity to visit the online store or a brick and mortar ones, through social mediums like Facebook, Twitter, MySpace, Google+, etc. Moreover the option of sharing and re-posting pictures of garments helps retailers reach a wider fan base and market. Offers, promotions, deals, and discounts are also being communicated by sharing on social networks. However, every small store around the corner by and large does this. Clothing retailers are taking this a step ahead to attract customers and keep them interested.
Many designers and retailers for instance, Topshop and Google collaborated for giving their customers a preview of the runway show and streamed live shows on communities of social networking sites like Google+ and YouTube. Burberry also launched its collection on Twitter to create a huge noise, even before it hit the fashion weeks and generated interest among potential customers.
Brands and clothing retailers are making attempts to build better relationship between the brand and the client, which is beyond just promoting offers and deals. This is exactly where social shopping fills the bill. An interface like this merges, what is the best of e-shopping or e-commerce and social media at one place. Although social shopping is in a baby stage, it is only bound to grow in future.
Shopping for clothes is a way of socializing. Hence apparel retailers are clouting on this concept to build a social shopping platform. Currently Polyvore, Pinterest, and Kaboodle provide avenues for social shopping. These social commerce clothing sites allow users to have their individual accounts, where they can connect with each other and also follow, discuss, and suggest different garments, colors, and styles.
Similarly sites like ThisNext and Lockerz are also designed to engage user interactions by sharing, recommending, and suggesting clothes and garments. Ruling retailers like Nordstrom and Sephora have developed social shopping sites of their own, where consumers can write reviews and carry on live chats. High fashion brands like Chanel, Dolce & Gabbana, and Burberry also provide the privilege to consumers of social shopping through their exclusive sites.
Since the motto of social shopping is to increase consumer interaction for selling, clothing retailers pay a lot of attention to user-generated content. Encouraging users or fans of a certain brand to contribute to social networks by means of blogs, vlogs, reviews of products, and photographs pulls more traffic and in turn leads to sales.
The next big thing in clothing retail amalgamates virtual stores, online retailing, and social media all together. Brands have created not just virtual stores for clothing retail, but also allow users to create avatars and let one shop with other avatars. These exciting and innovative ways of using technology will push clothingretail to new levels of productivity, and along with that empower consumers.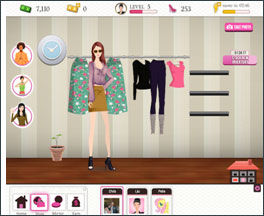 Gaming is also starting to be an option for clothing retailers who are doing big in terms of online sales. Retailers develop games where players pick a city of their choice and compete with one another to discover the best bargains and assemble a great outfit, with their virtual money.
Clothing Retailers reward winners of such entertaining games with an expensive garment or with more bonus virtual money. The best chosen looks are later shared on social media like Facebook, to allow others to shop for the looks.
Clothing retailers whether online or offline are competing to provide a seamless shopping experience, through innovative gateways to drive sales, and increase footfall or traffic. The increasing use of smartphones and teaming a mobile technology with retailing provides continuous access to consumers, and clothing retailers are taking full advantage of it, by evolving new methods of involving their web savvy consumers to promote brand and products. Social shopping still being in its infancy but is slowly becoming a popular and viable option for clothing retailers to keep their consumers hooked and improve their sales.
References:
1. Parcelmonkey.co.uk
2. Mashable.com
3. Guardian.co.uk
4. Economist.com
5. Gfktechtalk.com


Image Courtesy:


1. Viralblog.com
2. Lenouveleconomiste.fr
3. Insidesocialgames.com