Apparel retailers do extensive advertising and promotion of their products to stay connected to their customers and to increase loyalty towards their brand. Clothing retailers are always at a war to attract new potential customers and at the same time retain the existing ones. Increasing foot falls and achieving higher sales remain priorities of both online and offline retailers. Customer Relationship Management (CRM) software provides a mantra to achieve the above aim, with better customer analysis, increased customer satisfaction, and improved revenues.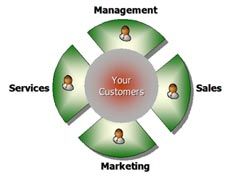 CRM has become a necessary tool for retailers to bear with the fierce competition. Customer orientation, relationship marketing, and database marketing form the crux of CRM. It is a software system that integrates the inventory management, customer communication, sales, and marketing units of an organization. The process consists of acquiring, differentiating, and evaluating the customer data. This helps apparel retailers in seeking customer centric insights and analyzing customer behavior. Information like this is further used to enhance customer satisfaction and optimize productivity.
To understand how CRM software works, it is essential to understand the touch points between customers and retailers or the company. Every time a customer has a certain experience with the brand, the people, product, or the company, through different mediums, the interactive channel becomes the touch point. The most obvious and significant touch point is the product itself. Besides these, conventional channels like television and print advertisements, direct mails and SMS also act as touch points.
Owing to the digital trend of e-marketing, mobile, internet, and social networking have also become effective mediums of communication. Touch points influence, attract, and make an impact on a customer's decision to buy a garment. CRM software integrates with such marketing tools to manage customer touch points, in order to make most effective use of the medium, and grab attention of customers.
Considering the evolving influence of fashion trends and changing customer needs, CRM systems provide a multi-channel approach. The software can be used in combination with the retail point of sale systems, online retail, and physical stores. Various details of customers like name, address, demographics, etc. are stored along with specific data on buying influences, behavior, economic backgrounds, interactions, and feedbacks can also be included in the software system.
Once all the data is assembled the software helps retailers understand and analyze information. The evaluation determines which products the customers are interested in, the amount a customer is willing to pay for a certain product, factors influencing the purchase decision of a customer, and motivates to work on drawbacks of products through customer feedbacks. It also delivers specific information about prospective, frequent, and loyal customers. Interpreting data using the software will help apparel retailers know the customers better, and devise a plan to promote and increase sales of their product.
CRM differentiates data based on parameters decided by the company or retailer. Hence from heterogeneous groups it filters the data into homogeneous groups of customers based on categories like socioeconomic background, demographics, etc. By segmenting customers in specific categories, apparel retailers can design their plan of action for sales, marketing, and customer services. Moreover, with information and analysis so precise, an apparel retailer can improve the standard of business and increase its brand loyalty. Based on such results, apparel retailers can also tailor strategies to target different customer groups.
With software upgrading continuously to meet requirements of frequently changing technology, the latest versions integrate with social networking mediums to derive better analysis. Social CRM merges with the networking profiles of customers providing useful insights about popular trends and changing preferences.
Mobile CRM is another emerging system, which is very different from the traditional CRM, and lets sales associates in a store access a customer's purchase history. It also helps manage the inventory of a product and easily check if a certain garment or style is available in another outlet of the brand. Besides this, CRM software available in the market are well advanced to merge seamlessly with Point of Sale (POS), Supply Chain Management (SCM), and Enterprise Resource Planning (ERP) systems. Apparel retailers are also demanding special designed CRM software according to their requirement.
However, using a CRM is not just about installing and implementing the software; it also requires changing business processes of the company. Failing to do so, will not help achieve the desired results.
CRM arms apparel retailers with information about their customers on their fingertips. Marketing strategies can be designed depending on the results derived from different touch points. CRM provides a 360 degree view of customers, leaving retailers with ample amount of resources to analyze. It helps in building improved customer value, retaining old customers, lower costs of promotions, and increase revenues. With the assistance of customer centric software like CRM, apparel retailers can maintain a track of their customers; keep their online or in-store aisles buzzing and the cash registers ringing.
References:
1. Crmsearch.com
2. Ijcem.org
3. Apparel.edgl.com
4. Cmai.in
5. Situationalreasoning.net
Image Courtesy:
1. Lerablog.org
2. Switchbd.com