There are certain countries whose economy is gaining momentum and some other countries that are entirely indifferent to the lethargic global economy. China is one such country, whose textile industry is one of the most lucrative and rapidly growing sectors globally. The textile and clothing industry is the largest manufacturing industry in China. It has about 24,000 enterprises and employs about 8 million workers. China's retail sector is also blooming, as despite the global economic downturn, the overall retail sales were reported to be up by 15.5 percent.
In the apparel retail sector, China has registered a remarkable growth, both within the country, as well as, outside the country. As per the A.T. Kearney Global Retail Development Index, China occupied the topmost position in terms of market attractiveness, retail development, and country risk for their clothing retail industries. The reason for the same is attributed to the Western countries' preference for growing their business in developing economies, where apparel spending is strong with rise in disposable income. The development of e-commerce in China is also largely responsible for significant growth of apparel retail at local and international level.
China's rising retail sales are underpinned by the stable rise of household income. As per the National Bureau of Statistics, China, in economically advanced cities like Beijing and Shanghai, the average per capita disposable income is more than 25,000 or $ 4084.38. The improved living standards of people in the country have shifted the focus from the basic brands to luxury brands. These changes indicate that Chinese households have more cash available for discretionary spending than they did a decade ago. This also explains the growth of foreign luxury brands in China.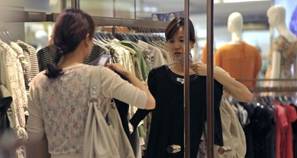 As far as e-commerce is concerned, less than 1 percent of total sale in apparel is reported to be via e-commerce, but in China, it is 6 percent, which is higher than in the United States. It signifies that more than three-quarters of online sales in China are in apparel. China's luxury market also remains strong and it surpassed Japan to become the second largest luxury market in the world in 2012, but it is not growing as fast as in the past.
Today, China is the biggest producer and exporter of textiles and clothing, accounting for 50 percent of world's total fibre production and 58 percent of world textiles and clothing trade, but also a potential buyer and importer, backed by a fast-growing market. China and EU's textile and garment trading in the financial year of 2012-2013, accounts for 36,400.1 Euros imports and 1884.6 Euros of exports.
On the whole, the high-end domestic clothing market in China is dominated by brands of European origin and other imported products, such as Giorgio Armani, Cerruti 1881, Hugo Boss, Dunhill, Chanel, Dior, Ermenegildo Zegna and Salvatore Ferragamo.
The middle and low end of the market has a product mix of foreign and domestic brands, with most of the goods being manufactured in China. To be specific, brands such as Nike, Adidas, Tommy Hilfiger, Zara and H&M are sourced from developing countries and least developed countries. For example, in Zara's stores in Shanghai, over 90 percent of stock-keeping units (SKUs) are imported, with Bangladesh, Egypt, Morocco, Portugal, Spain, Turkey, and Viet Nam and being the main import sources. Bangladesh, Cambodia, India and Indonesia are also important procurement target countries.
China's apparel industry has great competitive advantage in terms of labour cost, lead time, vertical integration of the industry, the variety of products, and political stability from a Chinese perspective. Giant retailers, such as Wal-mart and Carrefour, are also expanding their business in China.
Many multinational retailers, international fashion brands, and overseas trading firms presently find it profitable to manufacture clothing in various developing countries and export to China for sale. In China, the giants in apparel retail benefit from proximity to the market, economies of scale and low processing costs. However, relatively few local Chinese retailers, importers and brand owners choose to import or source clothing from other developing countries, because of a perceived level of lack of supply chain management skills in these countries. The home retailers in China are importing more and more luxury brands from developed countries to meet high-end demand in the country's local markets.
The domestic economic reforms in China and the open door policy have brought major changes to its textile and clothing industry. Furthermore, various export promotion policies have helped to develop this industry's exports. As a result, the Chinese firms occupy a substantial market share in the world's textile trade. The significant import and export markets concentrate on a few countries and regions, including Japan, Hong Kong, the United States, the European Union (EU) countries and Korea.
It is anticipated that the apparel retail industry in China will generate $20.84 billion in revenue in 2013, which accounts for 12.5 percent growth rate. The growth trend is also seen in the lower-tier cities in China, as the apparel firms are battling out their dominance in these regions. Some of the key international brands in sports apparel have also announced to expand their businesses in China's lower-tier cities.
The good news for China's fashion industry is that it is predicted that China's apparel retail would become the world's second fashion market by 2020, and will account for about 30 percent of the global fashion market's growth over the next five years. As per the according the findings of a Boston Consulting Group report in 2020, total fashion sales in China are expected to triple their current level, rising to more than RMB 1.3 trillion ($ 200 billion).
The country has established itself as the most diverse and interesting market for the apparel retail stores. China brings together the brightest and most promising local and luxury brands in apparel retail sector, and this augurs well for the China's apparel retail sector.
References:
1. Chinabusinessreview.com
2. Chainstoreage.com
3. Intracen.org
4. Ibisworld.com
5. S3.amazonaws.com
6. Cnbc.com
Image Courtesy:
1. Bbc.co.uk